A library in letters: the Bodleian
via OUP Blog by Amelia Carruthers
"Oxford University, Radcliffe Camera, a Reading room of Bodleian library" by Tejvan Pettinger, CC BY-SA 2.0 via Wikimedia Commons.
Libraries by their very nature are keepers and extollers of the written word. They contain books, letters, and manuscripts, signifying unending possibilities and limitless stores of knowledge waiting to be explored. But aside from the texts and stories kept within libraries' walls, they also have a long and fascinating story in their own right. In light of this contrast between the physical store of narratives, and the generally hidden life and narrative(s) of the library itself – what can letters about libraries tell us about the ways these spaces are used, and what makes them so special?
Continue reading
=============================
7 adorably wrong retro visions of the future
via
The New Statesman
by Amelia Tate
Ah, the future. The golden, glorious future. A time when food will be replaced by pills, walking will be replaced by hovering, and someone will have finally invented a printer that will print your black and white theatre ticket even though (even though!) you have an empty magenta ink cartridge. Who can wait?
Continue reading
=============================
Art history & the brain
via Arts & Letters Daily: Christie Davies in
The New Criterion
35:10 June 2017
Paintings of the Chauvet-Pont-dâ Arc Cave
John Onians is one of Europe's most innovative and wide-ranging art historians. A classicist by training and an expert on the theory and practice of Renaissance architecture, he became the pioneer of the teaching of World Art in British universities.
In European Art: A Neuroarthistory, his latest, expertly illustrated work, Onians has applied his ideas about how the workings of the brain relate to artistic expression to the entire spectrum of European art – from the very earliest cave paintings to Malevitch and Le Corbusier. The religious art of medieval Europe, including Gothic architecture, the works of Italian Renaissance, and the achievements of Velázquez, Canaletto, and Constable are all analysed in detail; here, though, I will specifically consider three of his topics.
Continue reading
=============================
The many voices of Dickens
via OUP Blog by Melisa Klimaszewski
Title page from the first edition of Dickens' A Christmas Carol, 1843.
Illustration by John Leech, Public Domain via Wikimedia Commons.
Charles Dickens's reputation as a novelist and as the creator of Ebenezer Scrooge, one of the most globally recognized Christmas miser figures, has secured him what looks to be a permanent place in the established literary canon. Students, scholars, and fans of Dickens may be surprised to learn that the voice many Victorians knew as "Dickens," especially at Christmastime, was also the voice of nearly forty other people. Over an eighteen-year span at the height of his career, Dickens was a collaborator whose creative voice was in conversation with a host of others.
Continue reading
=============================
Merchant Navy shipwrecks in the First World War
via The National Archives blog by Dr George Hay and Janet Dempsey
Battles and diplomacy naturally tend to dominate the narrative of the First World War, but little of either would have been sustained for long without the logistical efforts of the Merchant Navy. For the British this contribution was critical – not just delivering the means to fight to the operational theatres, but underpinning the entire war effort with sustenance and raw materials.
Continue reading
=============================
'People wanted to meet me and the donkey': my role in a bestselling children's book
Susanne Schäfer-Limmer recalls finding a donkey on Rhodes, and how her father turned the story into a simple tale
via the
Guardian
by Candice Pires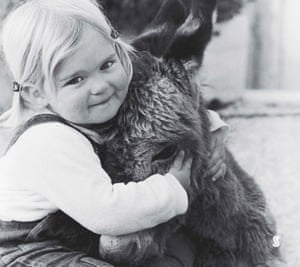 Susanne Schäfer-Limmer with Benjamin the donkey.
Photograph: Lennart Osbeck/Scribe Publications
I grew up in a village on the Greek island of Rhodes. My parents moved there from just outside Cologne in 1966, when I was a year old. They had wanted a more simple life, and they had been to Greece a few times and fallen in love with the Mediterranean light and Greek hospitality. Our house had no running water and only a little electricity, but we lived by the sea and it was beautiful.
One day, when I was two, we found a young donkey in the village. It had probably been abandoned by someone who couldn't afford to keep it. We christened it Benjamin. I don't know whose idea it was, but my father, Hans Limmer, and a Swedish friend of his in our village, Lennart Osbeck, thought it would be fun to make a children's book about it – neither of them had written one before.
Continue reading
=============================
The Monk Who Saves Manuscripts From ISIS
Why a Christian wants to rescue Islamic artifacts
via Library Link: Matteo Fagotto in
The Atlantic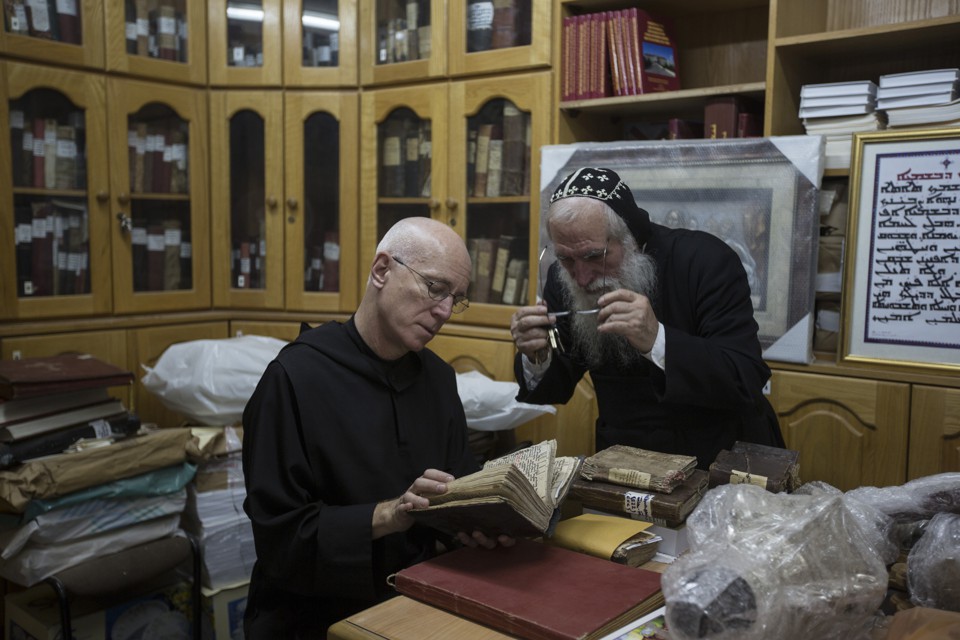 Rescuing the world's most precious antiquities from destruction is a painstaking project – and a Benedictine monk may seem like an unlikely person to lead the charge. But Father Columba Stewart is determined. Soft-spoken, dressed in flowing black robes, this 59-year-old American has spent the past 13 years roaming from the Balkans to the Middle East in an effort to save Christian and Islamic manuscripts threatened by wars, theft, weather – and, lately, the Islamic State.
Continue reading
=============================
These vibrant arrangements of diatoms revive a lost Victorian art
via Boing Boing by Andrea James
Matthew Killip directed this lovely short film about Klaus Kemp, a microscopist whose specialty had its heyday in Victorian times: arranging microscopic creatures into beautiful patterns.
Continue reading
=============================
Collection of Eastern Sephardic Ballads Goes Online
via Research Buzz Firehose: Dr. Rina Benmayor, Stroum Center for Jewish Studies, University of Washington
The Benmayor Collection of Eastern Sephardic Ballads and Other Lore is a collection of over 140 audio recordings gathered by Dr. Rina Benmayor in Seattle and Los Angeles during the 1970s. In conjunction with her visit to the University of Washington in 2014, and working together with the Sephardic Studies Program and Stroum Center for Jewish Studies, Dr. Benmayor organized, catalogued, and digitized her recordings and kindly contributed them to the Sephardic Studies Digital Collection.
Continue reading
=============================
Extraordinary migration of giant Amazon catfish revealed
via the
Guardian
by Damian Carrington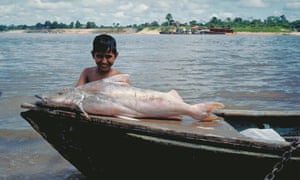 The dorado catfish, sometimes called the gilded catfish due to its silver and gold skin, can grow up to 2 metres in length. Photograph: Michael Goulding/WCS
A giant silvery-gold catfish undertakes the longest freshwater migration of any fish, according to new research, travelling 11,600km from the Andes to the mouth of the Amazon and back.
The dorado catfish, which can grow up to 2 metres long, is an important source of food for people along the world's longest river. It was suspected of making a spectacular journey, but a careful new analysis of the distribution of larvae and juvenile and mature adults has confirmed the mammoth migration.
Continue reading