30 Theme Parks That Make Childhood Dreams Come True
via Lifehack by Louise Williams
Theme parks are awesome! They can help us live out amazing adventures in magical lands that are usually inaccessible. These theme parks can help you fulfil all those childhood fantasies you've almost forgotten.
Get ready to take a step back into childhood with this amazing list of fantastic theme parks – emphasis on "fantastic".
Continue reading
I have checked the first four links and all are in the UK and operating in 2016.
===================================
Ten worst opening lines in novels
via Boing Boing by Mark Frauenfelder
The American Scholar presents a list of the ten worst opening lines in novels. I don't agree with all their choices, but I agree that most are awful enough to make me abandon the book after reading the first sentence.
I wish more authors of boring books would be courteous enough to warn me to stop reading after one sentence. For example, I trudged through 9/10ths of Donna Tartt's
The Secret History
, caring less and less what happened as the story unfolded until I closed the book for good.
Continue reading
===================================
George Johnson - The Whistling Coon - 1891 (The first recording by an African-American)
via 3 Quarks Daily: by Rare Soul
George Johnson's song Whistling Coon was one of the most popular of the Coon songs of the 1850-90s. While the records and the imagery that goes along with them are offensive, these are pioneering African-American recordings and songs. The amazing thing about the earliest of Johnson's recordings is that each one was unique. Each record was recorded and cut ON THE SPOT, so he had to do each take perfectly, and was then paid for the session. He made a decent living, but there weren't any copyright laws, or even any record industry at this point. It's said he did this song 56 times in one day.
Continue reading
===================================
Who was Saxo Grammaticus?
via OUP Blog by Peter Fisher
Saxo, who lived in the latter part of the twelfth and early thirteenth centuries, was probably a canon of Lund Cathedral (then Danish). He was secretary to Archbishop Abslon, who encouraged his gifted protégé to write a history of his own country to emulate those of other nations, such as Bede's Ecclesiastical History of the English People. Absalon was able to supply him with a large amount of material for the last few of the 16 books, since, as a warrior archbishop, he had taken a leading part in the Danish campaigns against the Wends of North Germany.
Continue reading
===================================
Yes, it's official, men are from Mars and women from Venus, and here's the science to prove it
via 3 Quarks Daily: Lewis Wolpert in
The Telegraph
In My Fair Lady Professor Higgins sings a song about the difference between the sexes, "Why can't a woman be more like a man?" It comes from an amusingly, ludicrously biased male point of view, but I have used it as the title for my new book on the subject to remind us that the differences between men and women remain a major issue.
Continue reading
===================================
The weird phenomenon of Terminal Lucidity
via Boing Boing by David Pescovitz
Terminal Lucidity is a phenomenon where someone who is completely out of it mentally (coma, dementia, schizophrenia, etc.) becomes briefly clearheaded just before they die.
Continue reading
===================================
Classical Intoxication: Love through the lens of Sappho
via Arts & Letters Daily: A.E. Stallings in
the weekly standard
Much of what we think we know about Sappho is apocryphal, conjecture, invented, or wrong, maybe even her name. (Sappho calls herself Psappho.) Yet somehow we feel we know her, that she is speaking directly to us across chasms of time, language, geography, and alphabets. And this is only from one, perhaps two, complete poems and a smattering of fragments from the nine-scroll corpus known in antiquity.
Continue reading
===================================
In Search of Sir Thomas Browne
via 3 Quarks Daily: Jim Holt in
The New York Times
National Portrait Gallery, London
This 17th-century English physician and philosopher, living in provincial isolation from literary London, managed to cultivate the most sonorous organ-voice in the history of English prose. At a time when the prevailing plain style was growing dull and insipid (John Locke is an example), it was Browne who showed the way to new possibilities of Ciceronian splendor. In doing so, he became a prolific contributor of novel words to the English language. Among his 784 credited neologisms are "electricity", "hallucination", "medical", "ferocious", "deductive", and "swaggy".
Continue reading
===================================
What makes Earth 'just right' for life?
OUP Blog by Karel Schrijver and Iris Schrijver
Within a year, we have been able to see our solar system as never before. In November 2014, the Philae Probe of the Rosetta spacecraft landed on the halter-shaped Comet 67P/Churyumov-Gerasimenko. In April 2015, the Dawn spacecraft entered orbit around the largest of the asteroids, Ceres (590 miles in diameter), orbiting between Mars and Jupiter. And in July, the New Horizons mission made the first flyby of the dwarf planet Pluto, making it the most distant solar-system object to be visited. Other spacecraft continue to investigate other planets, for example, Cassini (whose Huygens probe landed on Titan) studies Saturn and its moons, and Orbiters and Rovers are exploring Mars.
Continue reading
Yes, I know it is a bit out of date but still a fascinating roundup of exploration.
===================================
Antique toy museum, racist warts and all
via Boing Boing by David Pescovitz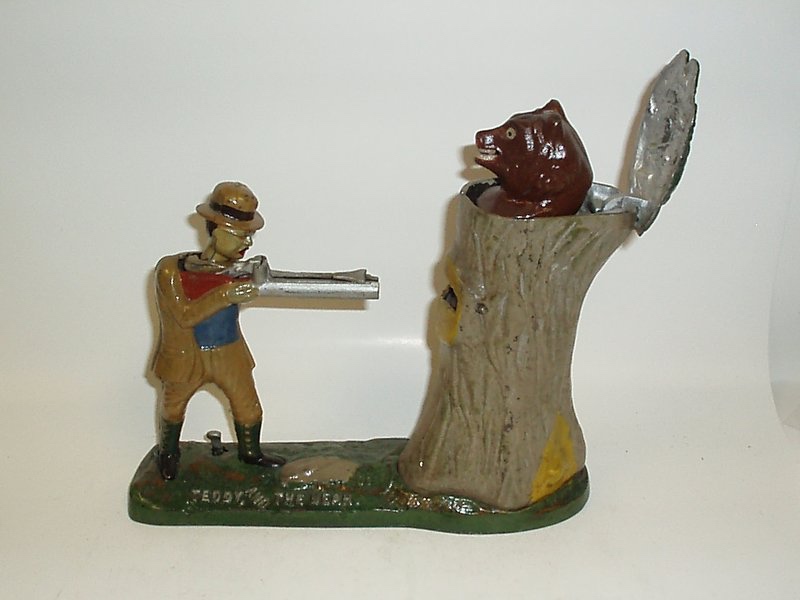 Frank Kidd, 83, is the proprietor of Kidd's Toy Museum, a private collection of 20,000 antique toys, from cars and trucks to figurines to, Kidd's favorite genre, mechanical banks like the one above. Some of the toys reveal a lot about the era they're from.
Continue reading