Mail Rail delivers an underground history lesson at London's new Postal Museum
A subterranean railway once whizzed four million letters a day across London. The public were oblivious to it but will soon be able to ride it, as it forms the centrepiece of the new Postal Museum
via the
Guardian
by Priya Khaira-Hanks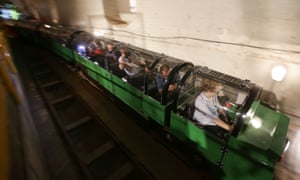 London's Mail Rail snakes through underground tunnels that have lain abandoned for years at the new Postal Museum. Photograph: Daniel Leal-Olivas/AFP/Getty Images
"Mail Rail was like having your own giant train set to run." The words are those of Ray Middlesworth, one of the last engineers on London's underground postal network, and they are now etched on an information plaque in the subterranean section of the new Postal Museum, which has opened in Farringdon.
Continue reading
Looks fascinating but it is not cheap.
=====================
A Short Analysis of John Donne's 'The Canonization'
via Interesting Literature
A reading of a classic Donne poem
'For God's sake hold your tongue, and let me love': such an opening line demonstrates with refreshing directness John Donne's genius for grabbing our attention right from the first line of a poem. 'The Canonization' is a difficult poem, but closer analysis of its language and imagery is rewarding.
Continue reading
=====================
Scientists finally discover why this river has such an unreal shade of blue
via Boing Boing by Andrea James
Rio Celeste is a gorgeous Costa Rican river with a length that's famous for its unusual turquoise waters. After decades of guessing, scientists finally determined the cause was aluminosilicate.
Continue reading
=====================
How a scientist you never heard of made String Theory possible
via 3 Quarks Daily: Paul Halpern in
Medium
Calabi Grid, courtesy of Berkeley Center for Cosmological Physics
When he died on September 7, 2012, theoretical physicist Claud W. Lovelace left behind a house filled with parakeets. With no family or close companions, the eccentric Rutgers professor loved to be surrounded by his colorful fine-feathered friends and listen to classical music as he contemplated the nuances of unified field theory. A loner not particularly close to his colleagues, members of the Physics and Astronomy department were astounded and delighted when he willed his entire fortune of $1.5 million to it. The funds were used to help establish endowed positions in practical fields of physics, a far cry from his own speculative work. He also willed his collection of more than 4,000 classical CDs to Rutgers' School of the Arts and donated his body to its Medical School.
Continue reading
=====================
Coffee makes you live longer? Don't believe the buzz
via Boing Boing by Adam Gelbart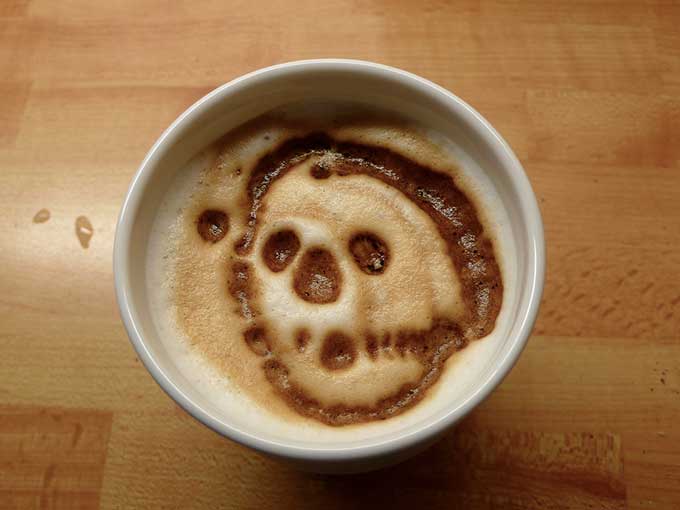 Two new studies from the
Annals of Internal Medicine
have made the rounds on news sites, each claiming that an increased coffee consumption leads to a higher life expectancy.
Continue reading
and discover that coffee drinkers do live longer but that there is no causation between those two things.
=====================
It's Complicated: Unraveling the mystery of why people act as they do
via 3 Quarks Daily: Michael Shermer in
The American Scholar
Angelica Kauffman,
Self-Portrait Hesitating between the Arts of Music and Painting
, 1791 (via Wikimedia Commons)
Have you ever thought about killing someone? I have, and I confess that it brought me peculiar feelings of pleasure to fantasize about putting the hurt on someone who had wronged me. I am not alone. According to the evolutionary psychologist David Buss, who asked thousands of people this same question and reported the data in his 2005 book,
The Murderer Next Door
, 91 percent of men and 84 percent of women reported having had at least one vivid homicidal fantasy in their life. It turns out that nearly all murders (90 percent by some estimates) are moralistic in nature – not cold-blooded killing for money or assets, but hot-blooded homicide in which perpetrators believe that their victims deserve to die. The murderer is judge, jury, and executioner in a trial that can take only seconds to carry out.
Continue reading
It is almost worth skimming through the book review to get to the comments!! H
=============================
A Short Analysis of John Donne's 'What if this present were the world's last night'
via Interesting Literature
A reading of a classic Donne poem
'What if this present were the world's last night?' In other words, what if the world ended tonight – what, then, would be the fate of my immortal soul? This is the matter that John Donne considers in this, one of his holy sonnets. As ever with Donne, his language and imagery require a bit of careful unpacking and close analysis, but the meaning of his poem can be ascertained by going through this powerful sonnet.
Continue reading
=============================
Astounding close-up image of Jupiter's Giant Red Spot
via Boing Boing by David Pescovitz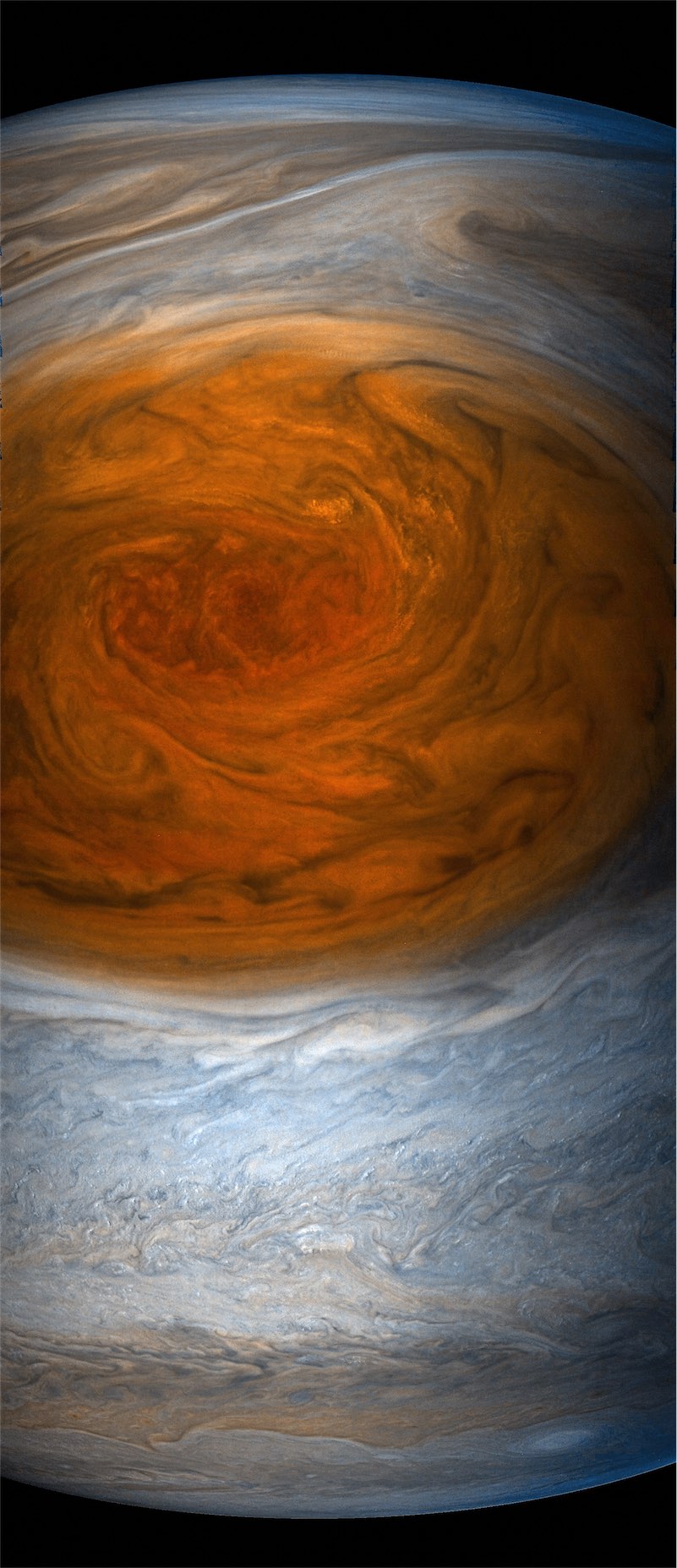 NASA's Juno probe just completed the closest ever flyby of Jupiter's Giant Red Spot. The above is a processed version of an image created by Gerald Eichstädt from the Juno imaging data. Juno was passing about 5,600 miles (9,000 kilometers) above the Red Spot.
Continue reading
to find links to lots more images
=============================
Earth's sixth mass extinction event under way, scientists warn
Researchers talk of 'biological annihilation' as study reveals billions of populations of animals have been lost in recent decades
via the
Guardian
by Damian Carrington Environment editor
A "biological annihilation" of wildlife in recent decades means a sixth mass extinction in Earth's history is under way and is more severe than previously feared, according to research.
Scientists analysed both common and rare species and found billions of regional or local populations have been lost. They blame human overpopulation and overconsumption for the crisis and warn that it threatens the survival of human civilisation, with just a short window of time in which to act.
Continue reading
=====================
Richard Rorty: Life, Pragmatism, and Conversational Philosophy
via Arts & Letters Daily: Santiago Zabala in
Los Angeles Review of Books
When Richard Rorty (1931–2007) passed away 10 years ago, public intellectuals such as Martha Nussbaum, Stanley Fish, and Gianni Vattimo, as well as newspapers from around the world, praised him as one of the most influential thinkers of the second part of the 20th century. There has not been another American philosopher since John Dewey who managed to transform so many philosophical problems and fascinate so many readers as Richard Rorty.
Although Rorty was a committed academic who taught in a number of distinguished universities (Princeton, the University of Virginia, Stanford), and was awarded several institutional prizes (the Meister Eckhart Prize, a MacArthur "Genius Grant", and honorary doctorates from several universities), he always remained an independent thinker capable of critiquing not only these establishments, but also his own nation when necessary. For example, when he heard the news about 9/11, his first concern was that George W. Bush and the Republican Party would use this "the way Hitler used the Reichstag fire", to "keep us in a state of perpetual war from now on – under the guise of the War on Terrorism".
Continue reading