Powerful symbols chiselled into a shepherd's shelter
via the Guardian by Ed Douglas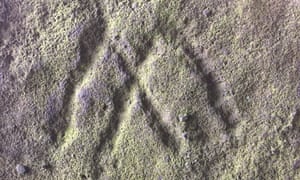 Two inverted Vs make an M in the gritstone. Photograph: Ed Douglas
The long flowing line of Stanage Edge is, for rock climbers, one of the world's great crags, segmented, like a gritstone worm, into various buttresses and features, each of them named, each providing many different routes to the top, each of those – and there are hundreds – also named.
Continue reading
===================================
Six Wives in the archives: the trial of Anne Boleyn
via The National Archives Blog by Marianne Wilson and Neil Johnston
Tonight
[14 December 2016]
on BBC One's
Six Wives
with Lucy Worsley, the spotlight falls on the trial of Anne Boleyn, and some of the records pertaining to this most famous inquiry are held at The National Archives.
Continue reading
===================================
Stepping back 3.6m years: footprints yield new clues to humans' ancestors
via the Guardian by Ian Sample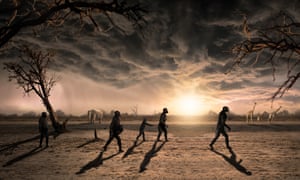 An artists impression of the Australopithecus afarensis walking through Tanzania.
Illustration: Dawid A Iurino
The footprints of five ancestors of humans who walked the Earth more than 3.6m years ago have been found preserved in volcanic ash that was dampened by ancient African rains. Researchers unearthed the tracks by accident when they began to excavate test pits that had been called for as part of an assessment of the impact of building a proposed museum on the site in Tanzania.
Continue reading
===================================
Aging Cheddar: a timeline of the world-famous cheese
via OUP Blog by Marissa Lynch
"Cheese!" by Roxanne Ready. CC BY-SA 2.0 via Flickr.
In the cheesemaking world, "Cheddar" is a generic term for cheeses that fall into a wide range of flavor, color, and texture. According to the US Code of Federal Regulations, any cheese with a moisture content of up to 39% and at least 50% fat in dry matter is legally considered a form of Cheddar. The varying processes involved in production have allowed regions around the world to create their own take on this globally consumed cheese.
Continue reading
===================================
9 Powerful Quotes on Atheism
via Big Think by Derek Beres
Pope Benedict XVI celebrates the Vespers of the first Sunday of the advent inside St.Peter's Basilica at the Vatican, 01 December 2007. Filippo Monteforte/AFP/Getty Images
The disparity between how humans feel about themselves and how we treat the world has grown thanks to social media. Awareness of the impact of climate change and the stunning destruction of fundamentalist religious ideologies has intensified, yet a belief in our innate specialness persists.
Continue reading
===================================
A map of ships buried under San Francisco Financial District
via Boing Boing by Andrea James
Much of San Francisco's Financial District used to be Yerba Buena Cove, where Gold Rush ships were abandoned in such numbers that many just rotted away till they sank.
Continue reading
===================================
Virtue Ethics: A Moral System You've Never Heard of – But Probably Use
via Big Think by Scotty Hendricks
Plato and Aristotle, as depicted by Raphael.
Are you the sort of person who always works for the greater good, or always sticks to moral rules? Perhaps you use a mixture of both? Or, maybe, are you neither of the above? Of course, do you know what you are if you are not one of those two?
Continue reading
And do not be put off by the start of the next paragraph "most people have heard …" because I haven't and I do not know anyone who has ever used either of those words in my hearing!
===================================
Dark matter, black holes, and dwarf spheroidal galaxies
via OUP Blog by Manuel Arca Sedda
Galaxy. CCO Public Domain via Pixabay
Our current understanding of the Universe suggests that it is composed of an invisible component called "dark matter". This mysterious type of matter represents more than 25% of the entire matter and energy of which the Universe is made. The matter that we are used to "seeing" in our everyday life and that represents the building blocks for both our bodies and stars that shine in the sky, represents only 5% of the Universe. We call this "ordinary" or "baryonic" matter.
Continue reading
===================================
Treasure Palaces: Great Writers Visit Great Museums – review
via the Guardian by Alexandra Harris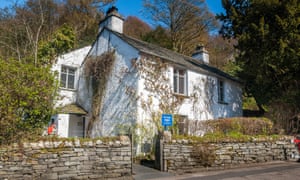 Meeting point between art and everyday existence … William Wordsworth's former home, Dove Cottage, in Grasmere, Cumbria. Photograph: Alamy
The 24 essays gathered here came about when distinguished writers were given what sounds like a most appealing brief: choose a museum that has played a part in your life, go back and write about it. It's almost as good an opportunity as Desert Island Discs. Still, Richard Ford demurred, explaining that his eyes fail to focus after 45 minutes in a museum; David Sedaris said he prefers the cafe and gift shop. Alice Oswald clearly had her doubts. "I haven't been to many museums," she says. "I can't help being depressed by the aloofness of things behind glass."
Continue reading
Yes, the Prado was referenced with a photo of Garden of Earthly delights. But to my mind the best of the Prado is The Dauphin's Treasure.Wikipedia has a number of images
By Carlos Reusser, CC BY 2.0, https://commons.wikimedia.org/w/index.php?curid=7758671
===================================
Watch magnets do ballet in slow motion
via Boing Boing by David Pescovitz
Taofledermaus writes:
Neodynmium magnets and a high speed camera? It turns out it is, as the kids say, oddly satisfying. I was practicing with some macro shots with the Chronos high speed camera, using LED lighting and filming at around 4000 frames per second. I dropped some hard drive magnets and noticed the magnets behaved very oddly and unpredictably.
Continue reading
and do not blame me if you get nothing productive done for several minutes!