The Mystery of Hieronymus Bosch
via 3 Quarks Daily: Ingrid D. Rowland at
The New York Review of Books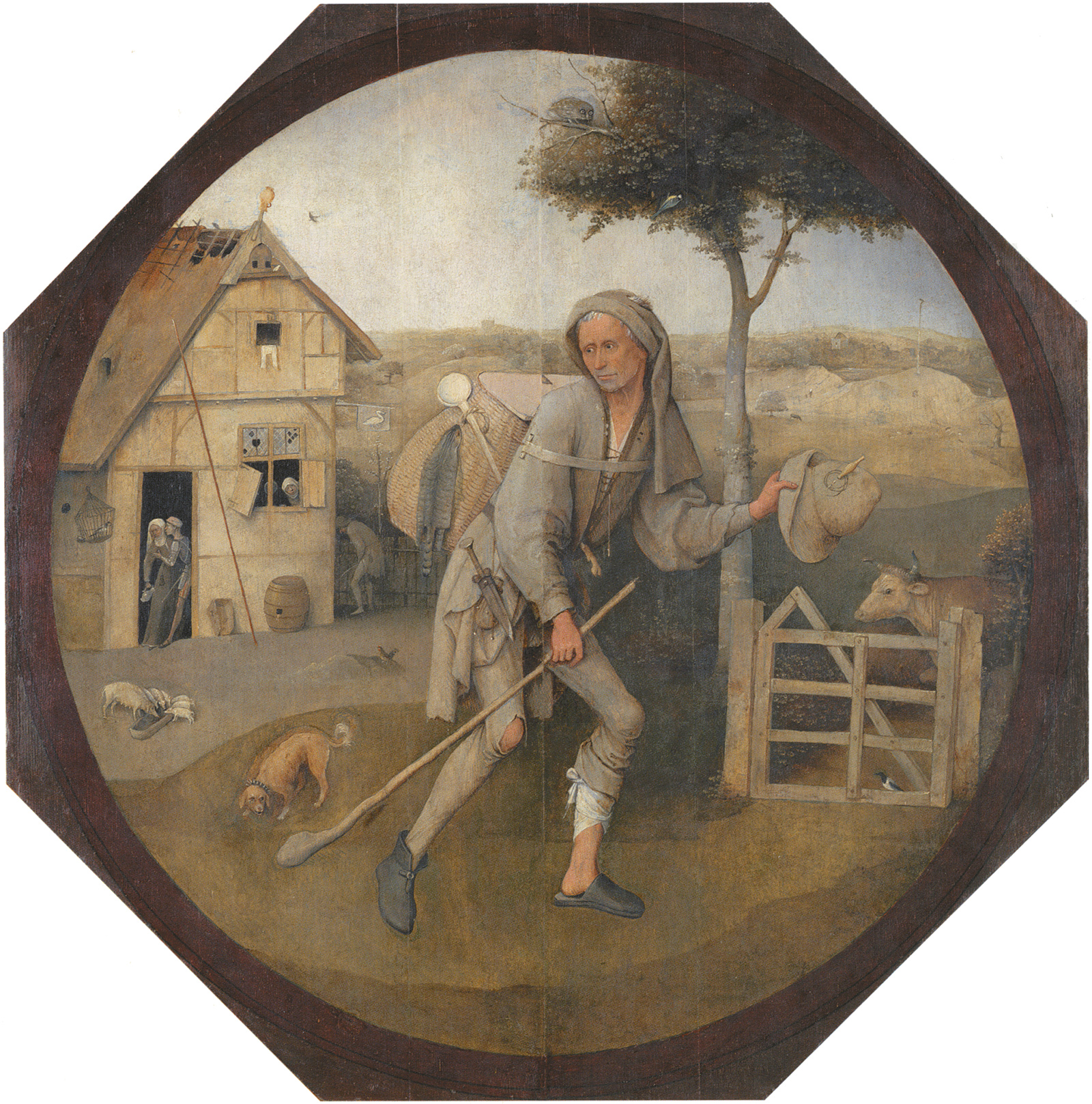 Hieronymus Bosch:
The Wayfarer
, circa 1500–1510
Museum Boijmans Van Beuningen, Rotterdam
There has never been a painter quite like Jheronimus van Aken, the Flemish master who signed his works as Jheronimus Bosch. His imagination ranged from a place beyond the spheres of Heaven to the uttermost depths of Hell, but for many of his earliest admirers the most striking aspect of his art was what they described as its "truth to nature". The five hundredth anniversary of his death in 1516 has inspired two comprehensive exhibitions, at the Noordbrabants Museum in his hometown of 's-Hertogenbosch and at Madrid's Museo Nacional del Prado, as well as an ambitious project to analyze all of his surviving work, drawn, painted, and printed, according to the latest scientific techniques (the Bosch Research and Conservation Project). Yet despite all we have learned through these undertakings – and it is a great deal – the man his neighbors knew as "Joen the painter" remains as mysterious as ever.
Continue reading
===================================
Twice bottled grief: the defiant life of Tony Garnett
via the New Statesman by Melissa Benn
Garnett's potent memoir
The Day the Music Died
shows a life defined by the refusal of even the most ordinary levels of mendacity.
Unlike Ken Loach, his friend and frequent collaborator, Tony Garnett remains a shadowy figure in the story of British radical film-making – yet has been just as vital, responsible for a string of pioneer productions from
Cathy Come Home
and
Kes
to
Law and Order
and
This Life
. Reflecting on some of the emotional reasons for his relatively low public profile, he comes to the conclusion that it is because "I didn't want to lie".
Continue reading
===================================
A Copernican eye-opener
via OUP Blog by Owen Gingerich
Approximately 500 years ago a Polish lawyer, medical doctor, and churchman got a radical idea: that the earth was not fixed solidly in the middle of all space, but was spinning at a thousand miles per hour at its equator, and was speeding around the sun at a dizzying rate. Unbelievable, critics said. If that were true, at the equator people would be spun off into space. And it would be much harder to walk west than east.
Continue reading
===================================
Amazing, horizontal lightning bolt
via Boing Boing by Cory Doctorow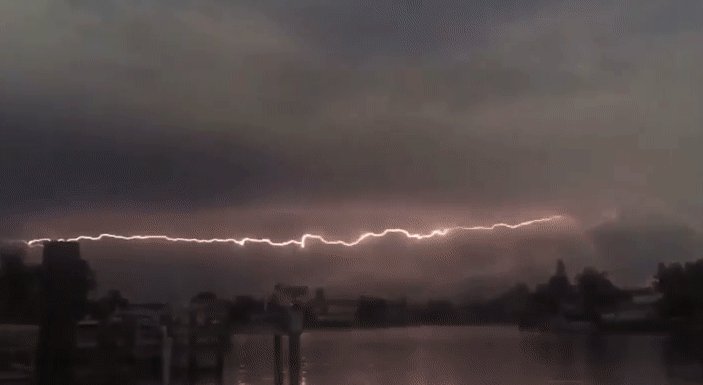 If this was a special effect, we'd call it fakey looking, but apparently it's real lightning, captured in Tampa and posted to Reddit by UnobtrusiveElephant.
Continue reading
===================================
10 facts about the trombone
via OUP Blog by Aviva Leshaw
Tuba, trumpet, trombone…which one should you pick up this fall? Read below to learn what makes the trombone the right choice, and to find out a little more about this bass instrument's long history.
Continue reading
===================================
This Website Shows Which Movies Are Perfect For You
via MakeUseOf by Joel Lee
Here's the weird thing about our brains: we think that having more choice is good, but that often leads us to analysis paralysis. We spend so much effort trying to pick one of the many choices that we end up giving up and picking none thanks to indecision!
One way to solve this problem is to "sift" through and separate the quality movies from the not-so-quality ones. But that can be a time-consuming process. Wouldn't it be awesome if there was a tool that handled all of that for you?
Well, thanks to a user on Reddit, that tool now exists.
Check it out for yourself
===================================
This titanium-infused quartz crystal is totally mesmerizing
via Boing Boing by Zeni Jardin
You have to see for yourself
===================================
Landmarks, shelter, air filters – trees are our friends
We may no longer rely on their wood for wheels or fish hooks, but trees are essential to our lives
Via The Guardian by Fiona Stafford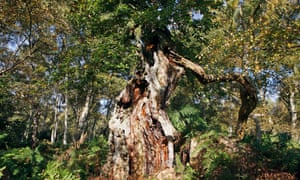 An oak tree in Sherwood Forest. Photograph: David Sillitoe for the Guardian
Burnt Oak, Gospel Oak, Poplar, St John's Wood. These are all stops on the Transport for London map, but their names carry dim recollections of a world older than the Underground. The rail network is haunted by memories of trees – Poplar is called after the trees that once flourished there, along the banks of the Thames and the Black Ditch, one of London's many lost rivers. In centuries past, St John's Wood was part of the great forest of Middlesex, variously feared for its robber gangs and famous as a rich hunting ground for kings. Gospel Oak was a huge oak tree, marking the parish boundary of St Pancras and Hampstead, which became an outdoor church for nonconformist preachers and their enormous congregations during the 18th century.
Continue reading
===================================
Ozone Hole Could Be Completely Healed by 2050
via Big Think by Natalie Shoemaker
The Earth's atmosphere is on the mend, according to an article published in
Science
. It took almost 30 years for the ban on ozone-depleting substances, like chlorofluorocarbons (CFCs), to work and scientists are saying if this trend continues, the ozone could be completely healed by the middle of the century. It's a wonder what environmental policies can do for our health.
Continue reading
===================================
How China is rewriting the book on human origins
via 3 Quarks Daily: Jane Qiu in
Nature
On the outskirts of Beijing, a small limestone mountain named Dragon Bone Hill rises above the surrounding sprawl. Along the northern side, a path leads up to some fenced-off caves that draw 150,000 visitors each year, from schoolchildren to grey-haired pensioners. It was here, in 1929, that researchers discovered a nearly complete ancient skull that they determined was roughly half a million years old. Dubbed Peking Man, it was among the earliest human remains ever uncovered, and it helped to convince many researchers that humanity first evolved in Asia.
Continue reading