===================================
How tragedies of the Great Depression influenced singer Woody Guthrie
via Boing Boing by WINK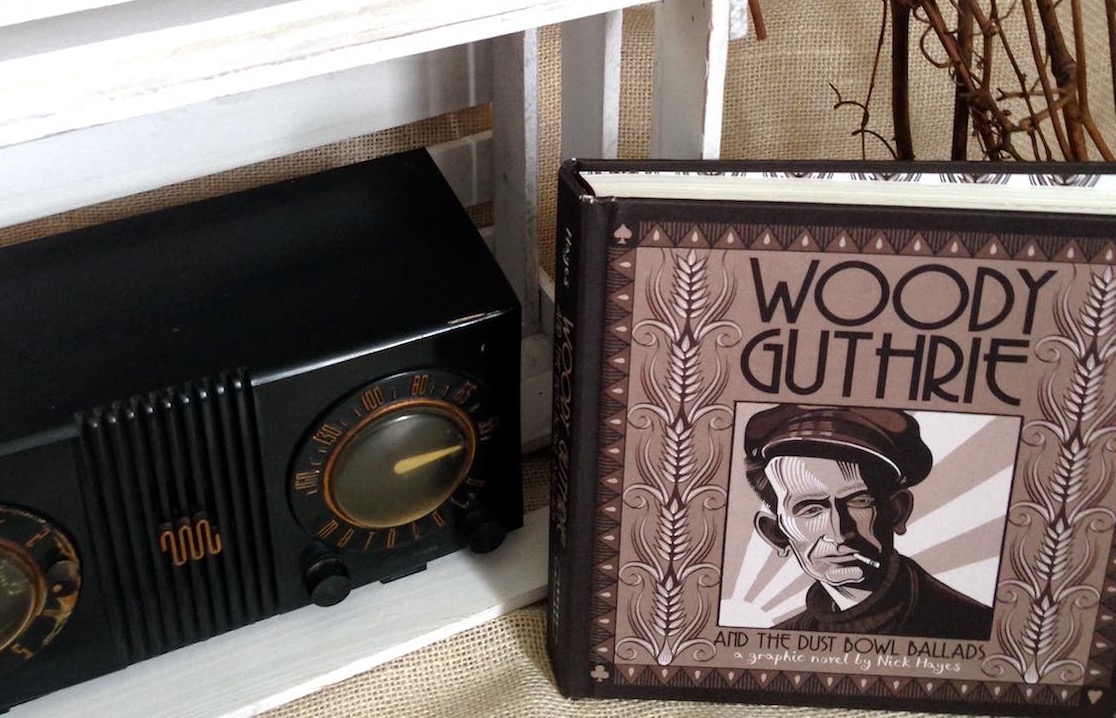 A graphic novel of the life and early career of singer Woody Guthrie, Woody Guthrie and the Dust Bowl Ballads is a sepia and dusty brown, linocut illustrated graphic novel. It begins with harrowing tales of his youth – his mother burning his father with coal oil, resulting in her being shipped off to the Hospital For The Insane, the collapse of his Pampa hometown as the plummeting price of wheat ruined the local and national economy, and Guthrie traveling roads and hopping trains during the Great Depression. His encounters with snake oil salesmen and carnival acts, hobos, and migrant workers, as well as his exposure to the music of Cajuns, Native Americans, Xit cowboys, and Appalachian folksong performances at barn dances ultimately inspire him to take up the fiddle and write original tunes.
Continue reading
===================================
Slavery and the limits of international criminal justice
via OUP Blog by Dr James Cockayne and Nick Grono
By the best available estimates, between one in 162 and one in 400 people currently alive is trapped in a situation of slavery or forced labour. Mauritanians are born into hereditary or 'chattel' slavery. Indian families suffer in debt bondage in brick kilns. Migrants from Myanmar are forced to work on Thai fishing boats. Construction workers are trafficked into construction projects in Qatar. Girls are abducted into sexual slavery by Boko Haram and Islamic State and political prisoners are enslaved in North Korea.
Continue reading
===================================
Grandfather Clocks and the Big Bang
via 3 Quarks Daily: Sean Carroll in
UnDark
Drawing of an anchor escapement from an 1896 clockmaking manual. (Visual by Wikimedia Commons)
There are two things going on, both of which are crucial to the operation of a pendulum clock. One is a little gizmo called an escapement, which turns the back-and-forth-rocking of the pendulum into the one-way ticking of the clock. Robert Hooke, a rival of Isaac Newton's, invented the first escapement back in the seventeenth century. The clock hands are driven by an "escape wheel" with pointed teeth that are angled in a uniform direction. The pendulum, meanwhile, is connected to a two-armed piece called the "anchor." As the anchor rocks back and forth, one of the arms first pushes the escape wheel in one direction, and then the other catches the teeth so that the wheel cannot move in the other. In this way, the oscillations of the pendulum become the uniform motion of the clock hands.
Continue reading
===================================
Judging Vinyl Albums by Their Cover
via AbeBooks Blog by Julie Oreskovich
AbeBooks isn't just for books – we also have a wide selection of vinyl records spanning many different genres – jazz, rock, folk, blues, the list goes on.
People who collect vinyl are serious about finding the next great album to add to their collection. Record junkies claim that there's no better way to listen to music than on vinyl. But, this post isn't about finding a first pressing of The Beatles debut album. Rather, we're highlighting 1970s vinyl, based on the album cover. Just like we (sometimes) judge a book by its cover, we're picking our favorite albums based on the art.
Have a look at the selection that Julie has chosen
===================================
Do we need another book about Sherlock Holmes?
via Arts & Letters Daily: Michael Dirda in
The Washington Post
Do we need still another book about Sherlock Holmes or his creator, Arthur Conan Doyle?
Yes – at least, if it's by that high­functioning bibliographer Mike Ashley. The dust jacket of "Adventures in the Strand", his new book, describes Ashley as "one of the foremost historians of popular fiction," which verges on understatement: In fact, no one alive knows more about British magazines published between roughly 1880 and 1940, a period so rich in genre fiction that it is sometimes called "the age of the storytellers".
Continue reading
===================================
Does power really corrupt?
via 3 Quarks Daily: Matthew Sweet in
More Intelligent Life
Cycling one morning over the East Bay Hills, Professor Dacher Keltner had a near-death experience. "I was riding my bike to school," he recalls, "and I came to a four-way intersection. I had the right of way, and this black Mercedes just barrelled through." With two feet to spare before impact, the driver slammed on his brakes. "He seemed both surprised and contemptuous, as if I was in his more important way." Keltner's first response was a mixture of anger and relief: no Berkeley psychology professor with surfer-dude hair had been smeared over the Californian tarmac that day. His second was more academic. Was there, he wondered, a measurable difference between the behaviour of Mercedes owners and those of other cars? Cars that didn't cost twice the average annual income of an American middle-class family? Had the guy who nearly killed him bought something else, along with $130,000-worth of German engineering? The professor put a group of students on the case; sent them out with clipboards to loiter on the traffic islands of Berkeley. They monitored vehicle etiquette at road junctions, kept notes on models and makes. They observed who allowed pedestrians their right of way at street crossings; who pretended not to see them and roared straight past. The results couldn't have been clearer. Mercedes drivers were a quarter as likely to stop at a crossing and four times more likely to cut in front of another car than drivers of beaten-up Ford Pintos and Dodge Colts. The more luxurious the vehicle, the more entitled its owner felt to violate the laws of the highway.
Continue reading
===================================
Saxhorns and serpentcleides: a history of musical instruments
via The National Archives Blog by Julie Halls
Among the hundreds of thousands of designs held at The National Archives are many for musical instruments, or methods of improving instruments. These include examples that are still very much in use today, like the guitar and the upright piano, and others that have fallen out of use, such as the serpentcleide, or the English cetra.
These records help to illuminate the history of musical instrument making, particularly in the 19th century, when most of the designs for instruments were registered. They show how both well-known musical instrument makers and skilled amateurs designed and improved on instruments. We hold this material because the designs were registered for copyright – see our research guide for more information about registered designs.
Continue reading
===================================
A Mysterious Ocean Sound Discovered That Can Be Heard from Space
via Big Think by Paul Ratner
It's hard to remember some times, but we really don't know everything, and the world is still full of wonders. And some of the greatest mysteries we can explore come from the Earth's oceans. Scientists from the University of Liverpool in the UK have discovered a strange sound emanating from the Caribbean Sea (part of the Atlantic Ocean).
Continue reading
===================================
What it's like to travel away from the Sun at the speed of light
via Boing Boing by Mark Frauenfelder
This video lets you hitch a ride on a photon emitted from the sun. It takes about 45 minutes to get to Jupiter.
See for yourself
and believe me it's not watching paint dry although watching the whole 45 minutes was too much for me.
===================================
India and Pakistan have long granted Rudyard Kipling, the Bard of Empire, a surprising pedestal
via 3 Quarks Daily: Patrick Hennessey in
The Telegraph
You wouldn't think that Rudyard Kipling would be particularly esteemed in modern India. Now notorious, rather than celebrated, as the "Bard of Empire", you might imagine that, if Kipling were remembered in India at all, it would be with understandable awkwardness at best and, at worst, disdain. Memories are long in the Punjab, and few have forgiven Kipling for his public support of General Dyer, the Butcher of Amritsar. Yet as I followed in the young writer's footsteps through modern Pakistan and India to make the documentary Kipling's Indian Adventure, from Lahore across the hot Punjabi plain and up into the fresh foothills of the Himalayas to the Raj's summer capital of Shimla, I discovered not only that Kipling was well known, but that many of his works are well regarded and even taught in schools – more so, I dare say, than in Britain
Continue reading