The East India Company: The original corporate raiders
via 3 Quarks Daily: William Dalrymple in
The Guardian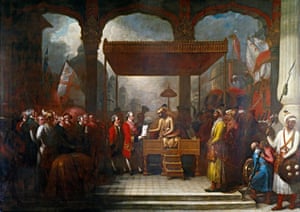 The painting shows a scene from August 1765, when the young Mughal emperor Shah Alam, exiled from Delhi and defeated by East India Company troops, was forced into what we would now call an act of involuntary privatisation. The scroll is an order to dismiss his own Mughal revenue officials in Bengal, Bihar and Orissa, and replace them with a set of English traders appointed by Robert Clive – the new governor of Bengal – and the directors of the EIC, who the document describes as "the high and mighty, the noblest of exalted nobles, the chief of illustrious warriors, our faithful servants and sincere well-wishers, worthy of our royal favours, the English Company".
Continue reading
===================================
Baldwin's complex fate
via Arts & Letters Daily: Colm Toibin in
Prospect
James Baldwin was told his novel about gay life in Paris would ruin his career. Republished this month after 60 years, "Giovanni's Room" remains risky, truthful and disturbing.
Continue reading
===================================
Earth's climate: a complex system with mysteries abound
via OUP Blog by Christopher K R T Jones
We are living with a climate system undergoing significant changes. Scientists have established a critical mass of facts and have quantified them to a degree sufficient to support international action to mitigate against drastic change, and adapt to committed climate shifts. The primary example being the relation between increased atmospheric carbon dioxide concentrations and the extent of warming in the future. But the climate system in its entirety is a highly complex system, and mysteries abound as to how its internal mechanisms work and interact with each other.
Continue reading
===================================
'You Could Look It Up': The world before and since Wikipedia
via Arts & Letters Daily: Michael Dirda in
The Washington Post
You might guess that the revered 11th edition of the
Encyclopaedia Britannica
or the multi-volume
Oxford English Dictionary
is the greatest of all modern reference works. You would be wrong. That honor, as Jack Lynch reminds us in "You Could Look It Up," must go elsewhere. "The Hitchhiker's Guide to the Galaxy"– in the words of Douglas Adams – "has already supplanted the great Encyclopedia Galactica as the standard repository of all knowledge and wisdom, for though it has many omissions and contains much that is apocryphal, or at least wildly inaccurate, it scores over the older, more pedestrian work in two important respects. First, it is slightly cheaper; and second, it has the words 'Don't Panic' inscribed in large friendly letters on its cover."
Continue reading
===================================
What sparked the Cambrian explosion?
via 3 Quarks Daily: Douglas Fox in
Nature
In the modern world, it's easy to forget that complex animals are relative newcomers to Earth. Since life first emerged more than 3 billion years ago, single-celled organisms have dominated the planet for most of its history. Thriving in environments that lacked oxygen, they relied on compounds such as carbon dioxide, sulfur-containing molecules or iron minerals that act as oxidizing agents to break down food. Much of Earth's microbial biosphere still survives on these anaerobic pathways.
Continue reading
===================================
Free virtual tour of the Smithsonian – admission is just an internet connection
via Red Ferret
It's winter out there. For some of us, it's REALLY winter out there. Snow and bitter cold winds are keeping us all inside. That doesn't mean we can't go anywhere at all though. If you're looking for something to do without leaving your house, the Smithsonian has free virtual tours of the whole museum.
Continue reading
===================================
The Fatal Fashion of the Georgians
by The Chirurgeon's Apprentice
The other day, I walked through the makeup section of a department store. Every step of the way, I was bombarded by sales attendants trying to sell me the latest anti-aging potions. There was Rodial Snake Venom – an anti-wrinkle cream which allegedly simulates the paralysing effects of a viper bite to reduce expression lines in the face – as well as a host of other products including Freeze 24/7, which purports to be a "clinically proven dream cream." Topping the list of quack remedies was the "Vampire Facelift," a non-surgical procedure involving the reinjection of gel-like substance derived from the patient's own blood.
Continue reading
===================================
Unusual American Ants Never Get Old
via 3 Quarks Daily: Marcus Woo in
Smit
These
hsonian
Almost everyone succumbs to the ravages of time. Once quick and strong, both body and mind eventually break down as aging takes its toll. Except, it seems, for at least one species of ant.
Pheidole dentata, a native of the southeastern U.S., isn't immortal. But scientists have found that it doesn't seem to show any signs of aging. Old worker ants can take care of infants, forage and attack prey just as well as the youngsters, and their brains appear just as sharp.
"We really get a picture that these ants – throughout much of the lifespan that we measured, which is probably longer than the lifespan under natural conditions – really don't decline", says Ysabel Giraldo, who studied the ants for her doctoral thesis at Boston University.
Such age-defying feats are rare in the animal kingdom. Naked mole rats can live for almost 30 years and stay spry for nearly their entire lives. They can still reproduce even when old, and they never get cancer. But the vast majority of animals deteriorate with age just like people do.
Continue reading
===================================
The evolution of humans [infographic]
via OUP Blog
Where did we come from? How did we become human? What's the origin of our species? It is hard to imagine our understanding of humanity without, of course, Charles Darwin's Theory of Evolution. Writing in his iconic
The Origin of Species
, Darwin said: "I think it inevitably follows, that as new species in the course of time are formed through natural selection, others will become rarer and rarer, and finally extinct."
Continue reading
===================================
10,000 wax cylinders digitized and free to download
via Boing Boing by Cory Doctorow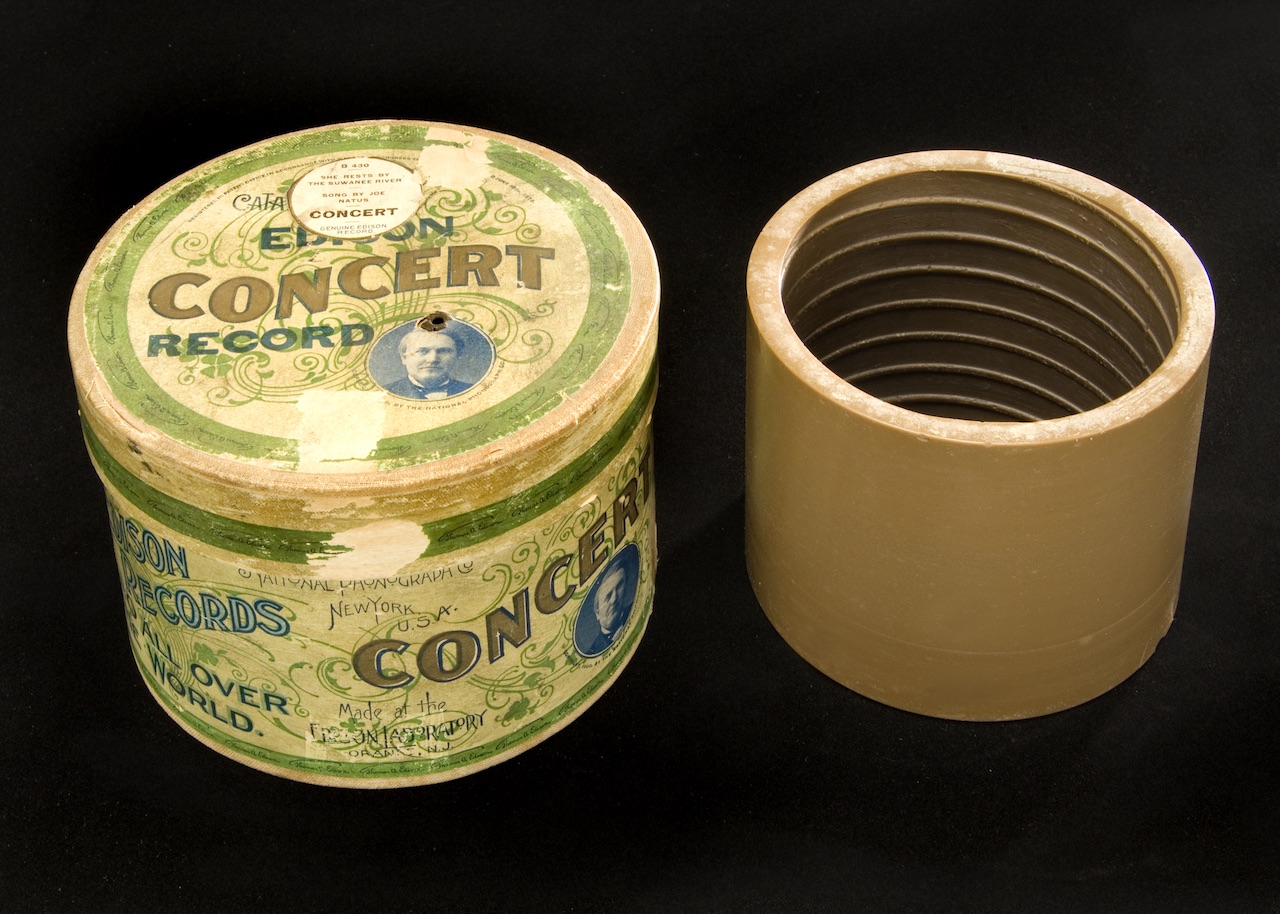 The University of California at Santa Barbara library has undertaken an heroic digitization effort for its world-class archive of 19th and early 20th century wax cylinder recordings, and has placed over 10,000 songs online for anyone to download, stream and re-use.
Continue reading