Frank Sinatra – 'the medieval monarch of showbiz'
via 3 Quarks Daily: Neil Spencer in The Guardian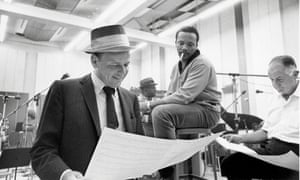 Frank Sinatra's favourite time of day was dawn, especially the ice-blue desert dawn of Las Vegas, the signal that he had slaked his gargantuan thirst for fine music, fast company, beautiful women and booze. His customary bedtime was 7am, at which point the perpetual party he led and underwrote would evaporate. Sinatra's need for distraction and his terror of solitude are a central theme of Sinatra: The Chairman, James Kaplan's meticulously researched biography, this second volume marking the singer's centenary. Kaplan takes up his story in 1954, when Sinatra's Oscar for From Here to Eternity began "the greatest comeback in show-business history", taking him from over-the-hill crooner to worldwide icon. Kaplan draws from previous biographies and the memoirs of Sinatra's lovers and fellow travellers, but the pithy narrative is his own, as are his persuasive critiques of the music.
==================================
Wax, cord and ink: the materiality of records
via National Archives by Paul Dryburgh
'We will advance knowledge through exemplary academic liaison and outstanding interdisciplinary research.' – Archives Inspire
At The National Archives, we don't just study what the documents housed here say. Technical analysis of the materials that make them also allows us to glimpse future possibilities for research.
Continue reading
==================================
The Origin of Left and Right
By studying twisting snails, scientists have identified the earliest molecules that make us asymmetrical.
via 3 Quarks Daily: Ed Yong in
The Atlantic
On the surface, people are more or less symmetrical. Aside from small differences, our right sides mirror our left. The same isn't true for our innards. The heart, stomach, and spleen typically sit slightly to the left, while the liver and gall bladder sit to the right. That's the usual set-up, but it's mirrored in one in every 10,000 people, who have a condition called situs inversus. Donny Osmond has it. So did James Bond's adversary Dr. No, who once survived a murder attempt because his would-be assassin stabbed the left side of his chest and missed his heart.
Continue reading
==================================
Pandas and people: understanding their complex relationships for successful conservation
via OUP Blog by Jianguo Liu
Amid failures in saving numerous wildlife species worldwide, there is an encouraging success—decades of panda habitat degradation have been transformed into a remarkable recovery.
The success is taking place in Wolong Nature Reserve of China—home to endangered giant pandas and more than 5,000 residents who share a 200,000-ha mountainous area. It is also occurring in many of the other 66 nature reserves and non-reserve areas across southwestern China.
Continue reading
==================================
How to send an email, 1984 edition
via Boing Boing by Mark Frauenfelder
Attention crackers - his Micronet password is 1234.
Electronic message writing down the phone line. First shown on Thames TV's computer programme 'Database' in 1984
Watch it here
===================================
An international army of knitters
via National Archives by Jane Lawrence
'Our film aims to breathe life into the cold stillness of a war memorial. It is the story of one Lincolnshire family during World War One.'
Pauline Loven, on community film 'Tell Them Of Us'
How did this all begin for the knitters? I was idly flicking through my Twitter feed one day in October 2014 and spotted the tweet which, as a keen knitter with an interest in the First World War, caught my attention immediately. The project was to involve a full year's activity and was absorbing and rewarding. My task was to collect the information such as skill level and pattern preference for the willing army of knitters and crocheters, set up a database and try to match skills to a particular vintage pattern.
Continue reading
===================================
Why we do what we do
via OUP Blog by Carolina Sartorio
You walked out the door this morning. Why did you do it? Perhaps because you wanted to stretch your legs. Perhaps because you wanted to feel the fresh air on your face and the wind blowing through your hair.
Is that it?
Not quite. I bet you also walked out the door this morning because the phone didn't ring a second earlier. And because you didn't see a huge storm approaching. I bet you also walked out the door this morning because you didn't promise a friend that you would meet him at home. And because you didn't have to help your spouse with some household chores. And, more generally, because you had no moral obligation that required staying at home. (The list doesn't end there. In fact, it may continue on indefinitely.)
Continue reading
===================================
To Get Customers Acclimated To Rotary Telephones, Theaters Played This PSA
via Stephen's Lighthouse
===================================
The 100 Jokes That Shaped Modern Comedy: "Now take my wife... Please!"
via 3 Quarks Daily: Jesse David Fox in
Vulture
The oldest joke on record, a Sumerian proverb, was first told all the way back in 1,900 B.C. Yes, it was a fart joke: "Something which has never occurred since time immemorial; a young woman did not fart in her husband's lap."
Don't feel bad if you don't get it – something was definitely lost in time and translation (you have to imagine it was the Mesopotamian equivalent of "Women be shopping"), but not before the joke helped pave the way for almost 4,000 years of toilet humor.
It's just a shame we'll never know the name of the Sumerian genius to whom we owe
Blazing Saddles
. But with the rise of comedy as a commercial art form in the 20th century, and with advances in modern bookkeeping, it's now much easier to assign credit for innovations in joke-telling, which is exactly what
Vulture
set out to do with this list of the
100 Jokes That Shaped Modern Comedy
.
Continue reading
===================================
Time and perception
via OUP Blog by George Jaroszkiewicz
The human brain is a most wonderful organ: it is our window on time. Our brains have specialized structures that work together to give us our human sense of time. The temporal lobe helps form long-term memories, without which we would not be aware of the past, whilst the frontal lobe allows us to plan for the future. In addition, we have a powerful sense of the present, the enigmatic 'moment of the now', that generates the sensation that time 'flows'.
Continue reading