===================================
A Single Neanderthal Gene Differentiates African from European Immune Systems
by Big Think by Philip Perry
You would think that since we are actually all one race, the human race, we would have the same susceptibility to diseases. But in fact, there is tremendous variance among the immune systems of different peoples living in varying parts of the world. The likelihood of developing certain infections, autoimmune diseases, or inflammatory conditions varies greatly, depending on where in the world your ancestors hailed. The immune systems of those of African and European descent diverge for instance, due to the different health challenges each population faced, historically.
Continue reading
===================================
A tragically beautiful retelling of Goldilocks and the Three Bears
via Boing Boing by Caroline Siede
Tumblr user Earthsong9405 posted this gorgeous storyboard with the following message:
For my Screen Design class, we had to take a fairytale and retell it in however we wanted in storyboard form. I chose the story of Goldilocks and the Three Bears. Just as a heads-up, I've replaced the bears with Ursa Major/Ursa Minor, the constellation based on a bear.
I could always tell the story myself, but I figured I should let the art do the talking and only answer questions if you're curious about it. The only hint I'll give is to pay attention to the faces of the characters.
Continue reading
===================================
Why this historic six-hour silent film about Napoleon is ideal for the boxset generation
via The New Statesman by Jame Cooray Smith
Abel Gance's black-and-white epic from 1927 has been digitally restored, in the culmination of a 50-year project. And somehow it's perfect for modern audiences.
Continue reading
===================================
Watch 52,000 books reshelved in two minutes at New York public library – timelapse video
via the Guardian
A hypnotic timelapse video shows staff stocking the library's grand Rose main reading room before its reopening after restoration work. The stunning reading room – roughly the length of two city blocks on its Fifth Avenue location – has been closed for more than two years after a partial ceiling collapse.
Video credit: Max Touhey Photography.
Continue reading
===================================
Top 15 Most Powerful Women in History|
via Big Think by Paul Ratner
A number of powerful women have shaped the course of history with their intelligence, strength, passion, and leadership qualities. They have challenged the status quo, made lasting reforms, and many have presided over their countries for decades, ushering in prosperity and cultural revolutions.
While this list is certainly subjective, it tries to take into account the actual power and the impact of each person.
Continue reading
===================================
The blessing of Babel
via OUP Blog by Matthew Reynolds
I am in Palermo, sitting on the floor of the puppet museum with a circle of teenagers. Around us hang gaudy, dormant marionettes of characters from the
Orlando Furioso
: the valiant Orlando and his horse Brigliadoro, his rival Rinaldo, his beloved the beautiful Angelica. Their stories are amazing, the stuff of epic and romance; but in fact the teenagers around me, all boys, have been through adventures no less extraordinary, though harsh and real. They have travelled to Palermo from many parts of Africa including Guinea, Libya, Mali, and Sudan; they have crossed the Mediterranean via smugglers' boats, shipwreck and rescue, and it is only a few months since Sicily became their sanctuary.
Continue reading
===================================
Alan Bennett: "I hope I'm not being too old-gittish"
via New Statesman by Liz Thomson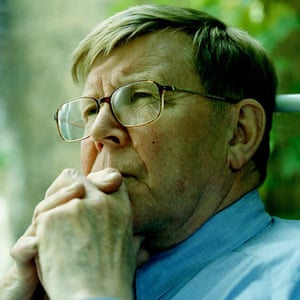 Thanks to the Guardian for the image, the NS one would not copy.
At 82, Alan Bennett has lost none of his wit or compassion – nor his anger at the "nastification" of Britain.
Continue reading
===================================
Measuring up
via OUP Blog by David J. Hand
Scale kitchen measure by Unsplash. CC0 Public Domain via Pixabay.
My first degree was in mathematics, where I specialised in mathematical physics. That meant studying notions of mass, weight, length, time, and so on. After that, I took a master's and a PhD in statistics. Those eventually led to me spending 11 years working at the Institute of Psychiatry in London, where the central disciplines were medicine and psychology. Like physics, both medicine and psychology are based on measurements. In medicine we might measure enzyme levels, blood pressure, heart rate, urinary flow rate, tumour size, and an unlimited number of other characteristics in patients. In psychology we might measure reaction time, pain thresholds, well being, depression, political orientation, food preferences, intelligence, and so on. What is clear about these lists is that while some of them have the same sort of physical directness as measurements in physics, others are very different. We can measure body temperature using a thermometer, but there is no physical instrument which will allow us to measure intelligence or depression. And yet we use the same word, "measurement", in all cases. This apparent discrepancy intrigued me.
Continue reading
===================================
How to raise a genius: lessons from a 45-year study of super-smart children
A long-running investigation of exceptional children reveals what it takes to produce the scientists who will lead the twenty-first century.
via Arts & Letters Daily: Tom Clynes in
Nature
On a summer day in 1968, professor Julian Stanley met a brilliant but bored 12-year-old named Joseph Bates. The Baltimore student was so far ahead of his classmates in mathematics that his parents had arranged for him to take a computer-science course at Johns Hopkins University, where Stanley taught. Even that wasn't enough. Having leapfrogged ahead of the adults in the class, the child kept himself busy by teaching the FORTRAN programming language to graduate students.
Continue reading
===================================
Science Shows Something Surprising About People Who Still Read Fiction
via Stephen's Lighthouse: Gabe Bergado at Arts.Mic
They tend to be more empathetic toward others.
It's not news that reading has countless benefits: Poetry stimulates parts of the brain linked to memory and sparks self-reflection; kids who read the Harry Potter books tend to be better people. But what about people who only read newspapers? Or people who scan Twitter all day? Are those readers' brains different from literary junkies who peruse the pages of 19th century fictional classics?
Continue reading