Somerset skeletons are oldest evidence of monks found in UK
via the Guardian by Caroline Davies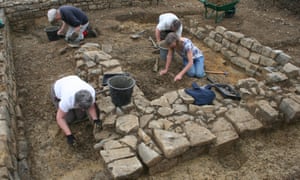 Skeletons excavated at a site near Glastonbury are the oldest examples of monks ever found in the UK, carbon dating has proved.
The remains, unearthed at the medieval Beckery chapel in Somerset, said to have been visited by legendary figures such as King Arthur and St Bridget, indicate a monastic cemetery dating back to the fifth or early sixth centuries AD, before Somerset was conquered by the Saxon kings of Wessex in the seventh century.
Continue reading
===================================
Peter Sellers recites the Beatles (in funny voices)
via Boing Boing by Cory Doctorow
Robbo writes, "Peter Sellers recorded a series of performances, in a variety of voices, reciting the lyrics of popular Beatles songs. It is demented weirdness - and perfect in all its madness."
Continue reading
===================================
The Mortal Marx
via Arts & Letters Daily: Jeremy Adelman in Public Books
In the mid-1860s, as an anxious and ailing Karl Marx worked on the 30-page essay that would billow into Das Kapital, his daughter Eleanor – "Tussy" – would play under his desk. With her dolls, kittens, and puppies, Tussy turned the sage's study into her playroom. Occasionally, Marx would take a break from his "fat book" (as the family friend and patron, Friedrich Engels, called the growing pile of pages) to work on a children's story to recite to his daughter. It featured an antihero, Hans Röckle, who became Tussy's favorite character, a dark-eyed, bearded magician devoted to creating marvels in his chaotic toy shop. Years later, Eleanor would recognize Röckle's struggles as her father's own and see the child's tale as a send-up of his unorthodox life. Röckle's magic was also a parable about making value out of things and accumulating capital out of debt, the fictive version of what Marx was determined to demystify in Das Kapital.
Continue reading
===================================
Adding 50 new tours for schools with Google Expeditions
via ResearchBuzz Firehose: Ben Schrom (Expeditions Product Manager, Google)
Since launching the Google Expeditions Pioneer Programme in September
[2016]
, we've visited over 200,000 students across the UK. They've gone on hundreds of virtual journeys, from the peak of Mont Blanc to standing on the battlements of Edinburgh Castle. And today, we're adding 50 new adventures to their classrooms with our virtual reality field trips taking the total number of expeditions now available to over 400.
Continue reading
===================================
The man who brought 'Civilisation' to a mass market
via 3 Quarks Daily: Michael Dirda at
The Washington Post
In 1969 the BBC aired a 13-part documentary entitled "Civilisation: A Personal View". Hosted by an upper-class Englishman with crooked teeth and a penchant for tweed, it traced the history of European art, music and literature from the Middle Ages to the 20th century, ending on a note of slightly qualified despair. The humanist values celebrated in the series were being lost or forgotten. More and more, we worshipped the machine and the computer, and instead of living with joy, confidence and energy, we dwelt gloomily in the valley of the shadow of global destruction. Still, there had been Dark Ages in the past, and humankind just might squeak through, by – as the very first episode declared – "the skin of our teeth".
Continue reading
===================================
How cities took over the world: a history of globalisation spanning 4,000 years
via the Guardian by Greg Clark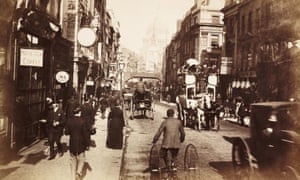 History shows that cities have tended to embrace international opportunities in waves and cycles. They rarely break out into global activity by themselves. Cities participate in collective movements or networks to take advantage of new conditions, and often their demise or withdrawal from a global orientation is also experienced jointly with other cities as circumstances change, affecting many at once.
The world's first great market-driven cities were established more than 4,000 years ago in the early bronze age, and their rich history is only now beginning to be understood. An urban revolution was taking place, with most residents of what is today southern Iraq living in cities, and this process of urbanisation was accompanied by trade on a new scale.
Continue reading
===================================
How About a New Theory of Evolution with Less Natural Selection?
via Big Think by Robbery Berman
In early November, a group of preeminent biologists, doctors, anthropologists, and computer scientists met in London to consider making a major change to the concept of evolutionary biology introduced by Charles Darwin in
Origin of the Species
in 1859. It's not that they're interested in throwing out the idea of natural selection. It's just that they think recent research suggests it doesn't account for evolution all by itself. This isn't the first time such a revision has happened, actually. And it's not clear that it will this time: Conference co-host Kevin Laland told Quanta magazine mid-conference, "I think it's going quite well," Laland said. "It hasn't gone to fisticuffs yet."
Continue reading
===================================
The life and times of Samuel Pepys
via OUP Blog by Amelia Carruthers
Samuel Pepys penned his famous diaries between January 1660 and the end of May 1669. During the course of this nine year period, England witnessed some of the most important events in its political and social history. The diaries are over a million words long and recount in minute and often incredibly personal detail events such as the restoration of the monarchy, the Second Anglo-Dutch War, the Great Fire, and Great Plague of London. By detailing his daily life with such frankness (Pepys never anticipated his diaries to be so publicly scrutinized) he provided an unprecedented window into the everyday experiences of seventeenth century Londoners as well as major political events.
Continue reading
===================================
Almost Half of What's In a Chromosome Is Still a Mystery
via Big Think by Robby Berman
While it's true that every chromosome contains some of 25,000 genes, it now turns out to be the case that this is only a little more than half the story. Computer modeling has revealed that up to 47% of each chromosome is an enigmatic sheath-like substance called the "chromosome periphery," something about which little is known. That's because it's almost impossible to get a good look at actual chromosomes.
Continue reading
===================================
The best place to sit in a "suicide circle" if you really don't want to die
via Boing Boing by Mark Frauenfelder
Math problems are more interesting when they are posed as horror stories.
Continue reading