Spectacular bronze age gold torc unearthed in Cambridgeshire field
via the Guardian by Maev Kennedy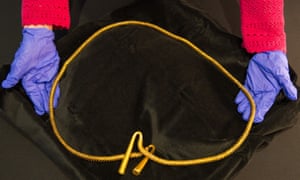 The torc is much larger than usual examples and is regarded as the best found in England in more than a century. Photograph: Dominic Lipinski/PA
A gigantic gold torc, so big one expert thinks it may have been worn to protect a pregnant woman, has been found by a metal detectorist in a ploughed field in Cambridgeshire. It was made from 730 grams of almost pure gold more than 3,000 years ago, and is regarded as the best found in England in more than a century.
Continue reading
===================================
"We Have Conquered Pain!" The Uses & Abuses of Ether in History
via The Chirugeon's Apprentice by Dr Lindsey Fitzharris
Image removed!
The surgical revolution began with an American dentist and a curiously sweet-smelling liquid known as ether.
Officially, ether had been discovered in 1275, but its stupefying effects weren't synthesized until 1540, when the German botanist and chemist Valerius Cordus created a revolutionary formula that involved adding sulfuric acid to ethyl alcohol. His contemporary Paracelsus experimented with ether on chickens, noting that when the birds drank the liquid, they would undergo prolonged sleep and awake unharmed. He concluded that the substance "quiets all suffering without any harm and relieves all pain, and quenches all fevers, and prevents complications in all disease." Yet inexplicably, it would be several hundred years before it was tested on humans.
Continue reading
===================================
This viral photo changed America – in 1863
via Arts & Letters Daily: Christopher Klein in the
Boston Globe
On the fourth of July in 1863 – an Independence Day that dawned with twisted, bloated bodies carpeting the fields and orchards of Gettysburg — tens of thousands of Americans who thought themselves numb to violence learned they were wrong. Leafing through the new issue of Harper's Weekly, they encountered the graphic sight of a shirtless black slave in profile revealing a barbaric web of welts across the canvas of his bare back, testament to a ferocious whipping.
Continue reading
I've not put the photograph in here – it is horrific and I do not want anyone coming across it unprepared as I did.
===================================
'Housman Country: Into the Heart of England' by Peter Parker
via 3 Quarks Daily: Paul Keegan at the
London Review of Books
Parker is interested in the daisies and dandelions, the untidy and contingent evidences of Housman's continuing presence in an England whose further reaches include Morse or Morrissey. In the West Country you can drink Shropshire Lad ale or you could (until recently) be drawn by a locomotive of that name. But Housman had foresuffered all, with his lads who down their troubles in 'pints and quarts of Ludlow beer'; or in a letter to his brother Laurence in 1920: 'I have just flown to Paris and back, and I am never going by any other route, until they build the Channel Tunnel.' Housman was already in full possession of the Housman effect.
Continue reading
===================================
Capitol Records at 75: Frank Sinatra, the Beatles and MC Hammer
via the Guardian by Guardian Music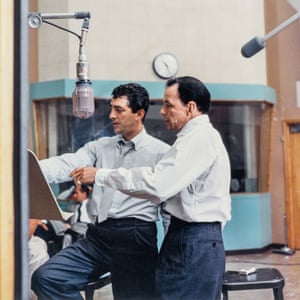 To commemorate the 75th anniversary of Capitol Records in 2017, publisher Taschen delved into the company's photographic archive for a new book that documents the label's decades of success. From the studio to the streets of Hollywood, here's a glimpse of Capitol's 20th- and 21st-century evolution.
Stunning images here
to save yourself £99.99 you may find the Taschen book in your local library.
===================================
Remarkable New Theory Says There's No Gravity, No Dark Matter, and Einstein Was Wrong
via Big Think by Paul Ratner
Gravity is something all of us are familiar with from our first childhood experiences. You drop something - it falls. And the way physicists have described gravity has also been pretty consistent - it's considered one of the four main forces or "interactions" of nature and how it works has been described by Albert Einstein's general theory of relativity all the way back in 1915.
Continue reading
===================================
Watch a master glassblower make an intricate dragon
via Boing Boing by Andrea James
In under an hour, glass artist James Mongrain transforms blobs of molten glass into a stunning green dragon. The choreographed teamwork, the variety of tools, and the interesting narration make this a real treat.
Continue reading
Yes, the video is just under an hour long and no, I have not watched it right through but I have picked out bits.
===================================
Top 20 Weirdest Inventions Ever
via Big Think by Paul Ratner
For all the iPhones, virtual reality headsets, deep space rocket engines and self-driving cars that are a part of our modern world, many a crazy contraption was invented along the way. It's entirely possible the ideas presented below are not the weirdest inventions ever simply because the truly weird ones probably never got close to the light of day or their creators were somehow destroyed in the process. Still, these are some of the strangest fruits of human ingenuity we know.
Continue reading
===================================
Eye Candy for Today: Bosch's vision of Hell
via Boing Boing by Mark Frauenfelder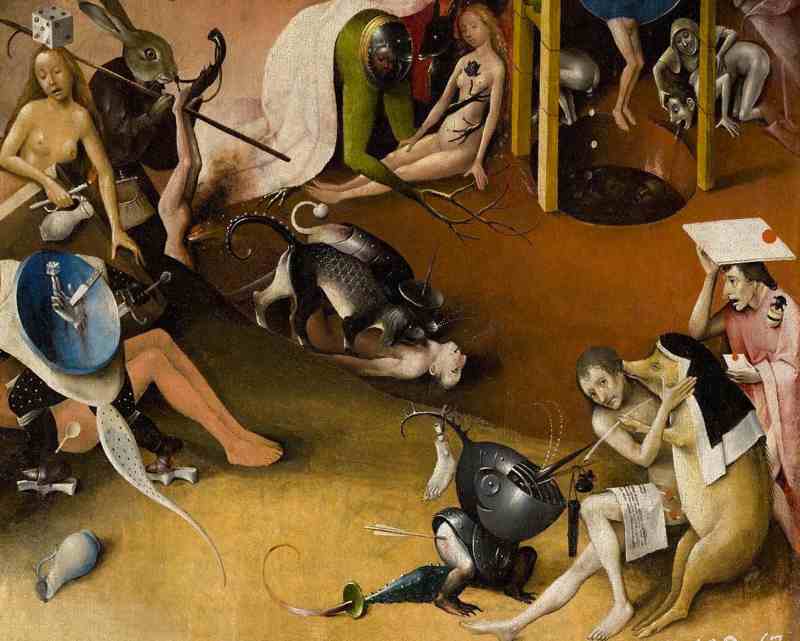 Line and Colors
decided today would be a good day to feature "Hell", the right panel from the tryptich,
The Garden of Earthly Delights
, by Hieronymus Bosch. It was painted between 1480 and 1505.
Continue reading
This takes me back to my weekend in Madrid with my daughter (birthday present) when I sat on the floor in front of this painting for what seemed like ages.
===================================
The irony of gunpowder
via OUP Blog by Alex Roland
Few inventions have shaped history as powerfully as gunpowder. It significantly altered the human narrative in at least nine significant ways. The most important and enduring of those changes is the triumph of civilization over the "barbarians". That last term rings discordant in the modern ear, but I use it in the original Greek sense to mean "not Greek" or "not civilized". Historian Kenneth Chase has represented such people as nomads from "the Arid Zone" – the Eurasian steppe and the North African desert. They were often what anthropologists call pre-state communities, usually governed by tribal or kin relationships. Their containment made possible what sociologist Norbert Elias called
The Civilizing Process
(1939) and what psychologist Steven Pinker has recently captured in his magisterial
The Better Angels of Our Nature: How Violence Has Declined
(2011).
The irony, however, is not that gunpowder reduced violence.
Continue reading