Empire of Tolerance
via 3 Quarks Daily: Simon Winchester in
The New York Times
DeAgostini/Getty Images
It was in an earlier best-selling volume that [Jack] Weatherford persuasively argued that the 25-year blitzkrieg mounted by Genghis and his cavalries – who, in "the most extensive war in world history" beginning in 1206, swept mercilessly and unstoppably over the Altai Mountains to their west and the Gobi Desert to their south – brought civilization, fairness, meritocracy and avuncular kindliness to legions of undeserving satrapies across Eurasia. Those who believed Genghis to be a tyrant of monstrous heartlessness have thus lately come to think otherwise: Weatherford's writings present us revisionist history on a grand scale, but one as scrupulously well researched (with ample endnotes) as such an intellectual overhaul needs to be.
Now, with "Genghis Khan and the Quest for God" he has taken his thesis still further, arguing with equal fervor and conviction that the Khan, though godless himself, favored total religious freedom for his subjugated millions. While his empire encompassed "Muslims, Buddhists, Taoists, Confucians, Zoroastrians, Manichaeans, Hindus, Jews, Christians and animists of different types" (Weatherford's passions for lists can sometimes seem like stylistic overkill), he was eager that all should "live together in a cohesive society under one government." No walls to be built, no immigration bans, no spiritual examinations.
Continue reading
===================================
'Lost' Austrian film predicting rise of Nazism restored and relaunched
via the Guardian by Philip Oltermann
City Without Jews premiered in Vienna in 1924. Now the original version, lost for 90 years, has been saved from decay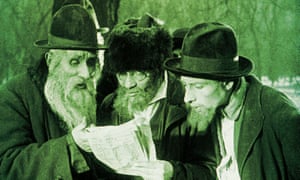 A still from the film City without Jews, which was based on a dystopian novel by the Jewish publicist Hugo Bettauer. Photograph: Filmarchiv Austria
It is the end of the first world war, inflation is soaring and the inhabitants of a German-speaking city are starting to turn on each other. Politicians are quick to find a scapegoat: "The people," the chancellor announces, "demand the expulsion of all Jews."
Continue reading
===================================
The Side of Dr. Seuss You Don't Know
via Big Think by Derek Beres
Theodor Geisel was a political thinker. The lifelong cartoonist drew hundreds of confrontational and thoughtful panels highlighting not only his disdain for Hitler and war, but for American inactivity and politicking during World War II as well. Most people don't know this side of the man, for it was his middle name used in his most famous works.
Seuss.
Continue reading
===================================
Literal music video interpretation of Queen's "Bohemian Rhapsody"
via Boing Boing by David Pescovitz
Advert is an integral part of the video at the end!
Of course, after this I had to go and listen to the real thing
===================================
The Lightness of Errol Flynn
via 3 Quarks Daily: Brian Doyle at
The American Scholar
I know this sounds crazy – believe me, I know – but I just saw 19 Errol Flynn movies in a row (from Captain Blood, the 1935 film that made him instantly famous, to 1953's The Master of Ballantrae, his last decent film and good performance before he died in 1959, only 50 years old), and I just read all three of the books he wrote, and I have read an awful lot written and said about him by other people.
Continue reading
But I'll have to hunt to find an Errol Flynn movie in my collection – something which needs to be remedied.
===================================
Love Is a Drag: the story behind the groundbreaking secret 60s gay album
via the Guardian by Jim Farber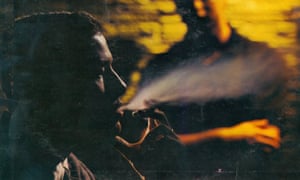 It was Liberace's favorite LP and gained a cult following, but the collection of love songs was released at a time when those behind it had to stay in the shadows
Continue reading
===================================
Fusion Gets Closer as Scientists Discover Plasma's Secret
via Big Think by Robby Berman
99% of the universe is believed to be comprised of plasma, a hot ionized gas made up equally of positively charged ions and negatively charged electrons. It's viewed as a fourth state of matter because it behaves differently than anything else: It's electrically charged, responds to external magnetic fields, and contains its own magnetic fields. When the magnetic field lines in plasma come together, break apart, and re-join, they produce explosive bursts of energy in a process called "reconnection." It results in solar flares, northern and southern lights, and cosmic gamma-ray bursts.
Continue reading
===================================
Inequality and new forms of slavery
via OUP Blog by Ilaria Ramelli
The issues of social justice, poverty, and all the forms of human trafficking, deployment, and oppression that can be grouped under the umbrella concept of "slavery" are problems that sorely affect the world today and urgently need concrete solutions. But they are not at all new problems; on the contrary, they were prominent and discussed already in antiquity and especially in late antiquity – a period in history that bears impressive similarities to our contemporary multi-cultural, multi-religious, and interconnected ("globalized") world, with many conflicts to mediate and increasing inequality to correct. Investigating, and reflecting on, late antique history, society, philosophy, and religion can prove extremely valuable for humanity today, and for the improvement of human condition – what philosophy and religion should aim at.
Continue reading
===================================
This shy octopus is too cute for scientists to handle
via Boing Boing by Caroline Siede
The scientists commenting on the E/V Nautilus live stream just can't contain themselves when it comes to this adorable Flapjack Octopus.
[via The Dodo]
Click through for the video
===================================
Roy Hudd: 'I saw Dick Whittington and spent a fortnight on all fours impersonating a cat'
via the Guardian: Interview by John Hind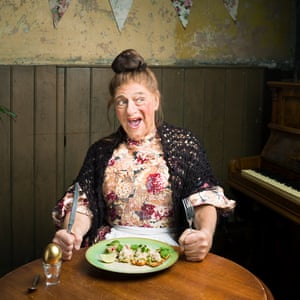 Roy Hudd as Mother Goose at Wilton's Music Hall. Food from Gatherers at Wilton's.
Photograph: Pal Hansen for the Observer
I don't remember eating with Mum or Dad. Dad wasn't around in Croydon, then Mum died while I was evacuated out in Maidford. Afterwards Gran managed to bring us up on her £2 and 15 shillings pension and still found spare coins for seats at the Croydon Empire every Tuesday evening. I remember seeing Dick Whittington there and then impersonating a cat for the next fortnight – lapping my milk from a saucer, taking my meals under the kitchen table, on all fours. And Gran never batted an eyelid. People would say "Roy's half daft" and she'd say "Well, I like him".
Continue reading