The Triumph of Piero
via 3 Quarks Daily: Willibald Sauerländer at the
New York Review of Books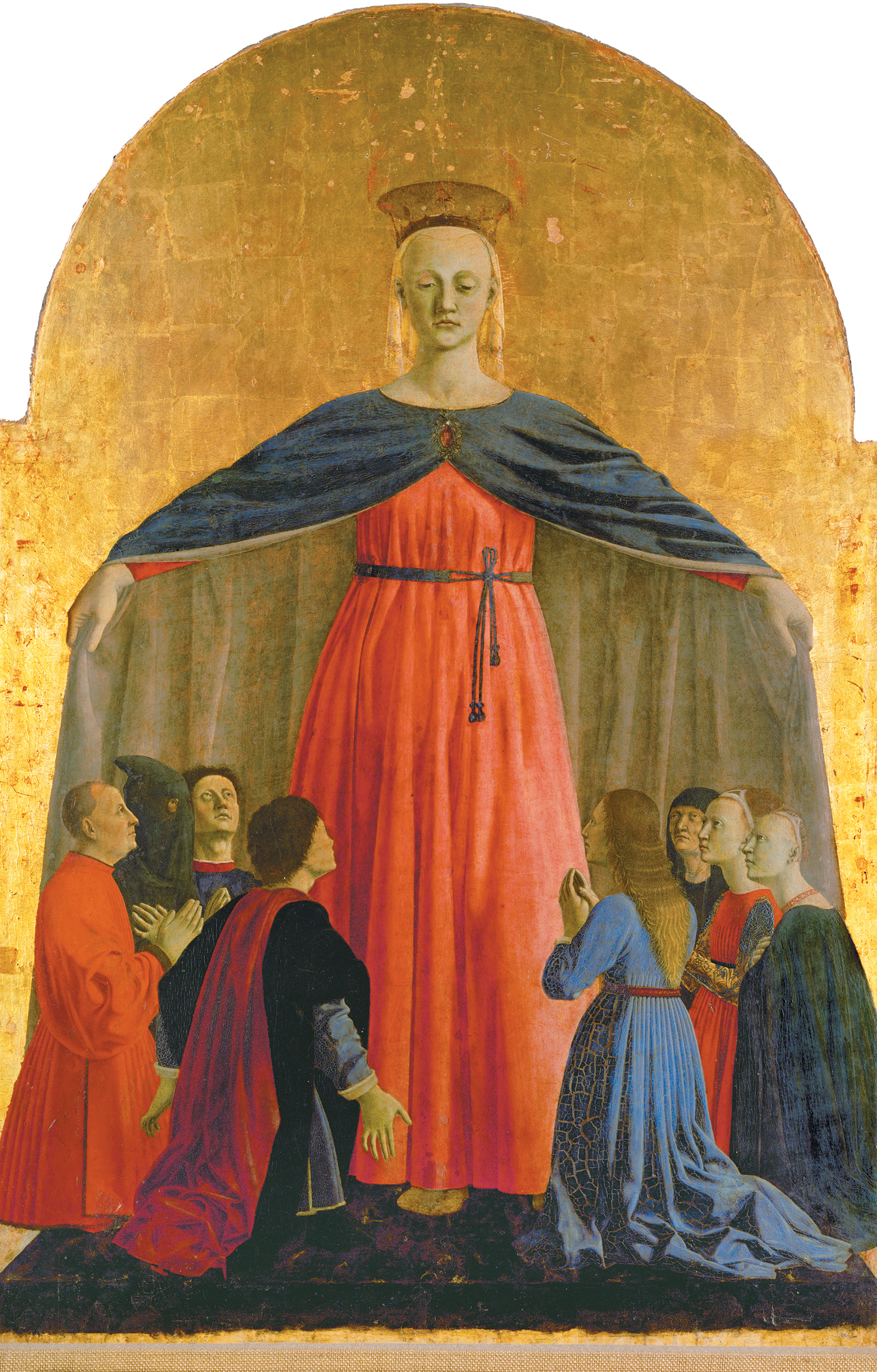 Museo Civico, Sansepolcro/Erich Lessing/Art Resource
Piero della Francesca:
Virgin of Mercy
, the center panel of the
Misericordia Polyptych
, 1445–1462
I really do not know which paragraph of the review to use to highlight it.
Please read for yourself.
===================================
'Not a fair trial': Edward Ashford's petitions for mercy
via The National Archives Blog by Briony Paxman
Working on the many thousands of petitions for clemency in record series HO 17 can be a sobering experience. We find accounts of families torn apart by transportation, descriptions of upsetting crimes, stories of individuals driven to criminal acts in desperate circumstances, and sometimes we come across unsettling accounts of someone who appears to have been in the wrong place at the wrong time.
Edward Ashford is just such a case. I have chosen to focus on him for this blog because his petitions provide an unusually detailed account of how events overtook him, and his life was turned upside down: a trip to a fair led to an accusation of theft and the prospect of never seeing his family again.
Continue reading
===================================
Bird genomes contain 'fossils' of parasites that now infect humans
via 3 Quarks Daily: From
PhysOrg
In rare instances, DNA is known to have jumped from one species to another. If a parasite's DNA jumps to its host's genome, it could leave evidence of that parasitic interaction that could be found millions of years later — a DNA 'fossil' of sorts. An international research team led from Uppsala University has discovered a new type of so-called transposable element that occurred in the genomes of certain birds and nematodes. The results are published in Nature Communications. Dr. Alexander Suh at Uppsala University is an expert on the small stretches of DNA that tend to jump from one place to another, called transposable elements. Working with a team from eleven institutions in five countries, the researchers discovered a new type of transposable element that occurred in certain bird genomes but not others. By searching DNA databases, the team discovered that the only other animals that shared the new transposable element were nematode worms that are parasites of humans and other mammals.
Continue reading
===================================
Shakespeare's Not-So Sceptered Isle
via OUP Blog by Marisa R. Cull
In 2012, when the world tuned in for the opening ceremony of London's Olympic Games, they were witness in part to a performance of one of Shakespeare's most famed speeches, delivered by one of today's most revered Shakespearean actors. Kenneth Branagh, dressed as English engineer Isambard Kingdom Brunel, offered these lines in the spirit of the ceremony's larger theme, "The Isles of Wonder":
Be not afeard: the isle is full of noises,
Sounds and sweet airs that give delight and hurt not.
Sometimes a thousand twangling instruments
Will hum about mine ears; and sometimes voices,
That, if I then had waked after long sleep,
Will make me sleep again; and then, in dreaming,
The clouds methought would open and show riches
Ready to drop upon me, that when I waked
I cried to dream again.
In isolation, as part of a larger tribute to the British Isles, the speech has a powerful effect. But of course Shakespeare is often misleading out of context. At this particular moment in
The Tempest
, set not in Britain but on a remote isle long associated with the "New World," the island "monster" Caliban tries to calm the nerves of his fractious guests, who have sought first to subdue him and use his knowledge of the island to help them colonize it. For readers who come to sympathize with Caliban, the moment is poignant – a tribute to a homeland over which he has no control, on which he has been held as a prisoner and slave.
Continue reading
===================================
What an Anti-Memory Is and How It Frees Your Mind
via Big Think by Laurie Vazquez
Neuroscientists at Oxford just discovered how your brain moves memories into long-term storage. It's called an anti-memory, and it's more helpful than it sounds.
Memories, at their most basic, are electrical impulses. But what happens if those impulses are always firing? Would they overload your brain the same way that running too many programs on your computer would fry its RAM? The answer is yes. Scientists think that these overly excited neurons could be the culprits behind conditions like epilepsy, schizophrenia, and autism. The balancing agent that keeps that from happening are anti-memories.
Continue reading
===================================
The brutality of Islamist terrorism has many precedents
via 3 Quarks Daily: John Gray at
Lapham's Quarterly
For those who find the rise of ISIS baffling, much of the past century can only be retro­gression from modern life. Even the regime that committed a crime with no precedent in history must be regarded as an example of atavism: the Nazi state has often been described as having taken Europe back to the Dark Ages. Certainly the Nazis exploited a medieval Christian demonology in their persecution and genocide of Jews, but Nazism also invoked a modern pseudoscience of race to legitimate these atrocities. Invoking a type of faux Darwinism, Nazi racism could have emerged only in a time shaped by science. Nazism was modern not just in its methods of killing but also in its way of thinking.
Continue reading
===================================
How Our Minds Were Once Shaped By Poetry
via Big Think by Jag Bhalla
Few now sing the praises of when poetry shaped us. Its history of molding minds is almost lost (it lasted till prose, and its logic, could last). That's the unsung pretext of Plato's poetry ban.
Continue reading
===================================
Portraits of Buffalo Bill's "Show Indians"
via Boing Boing by Jason Weisberger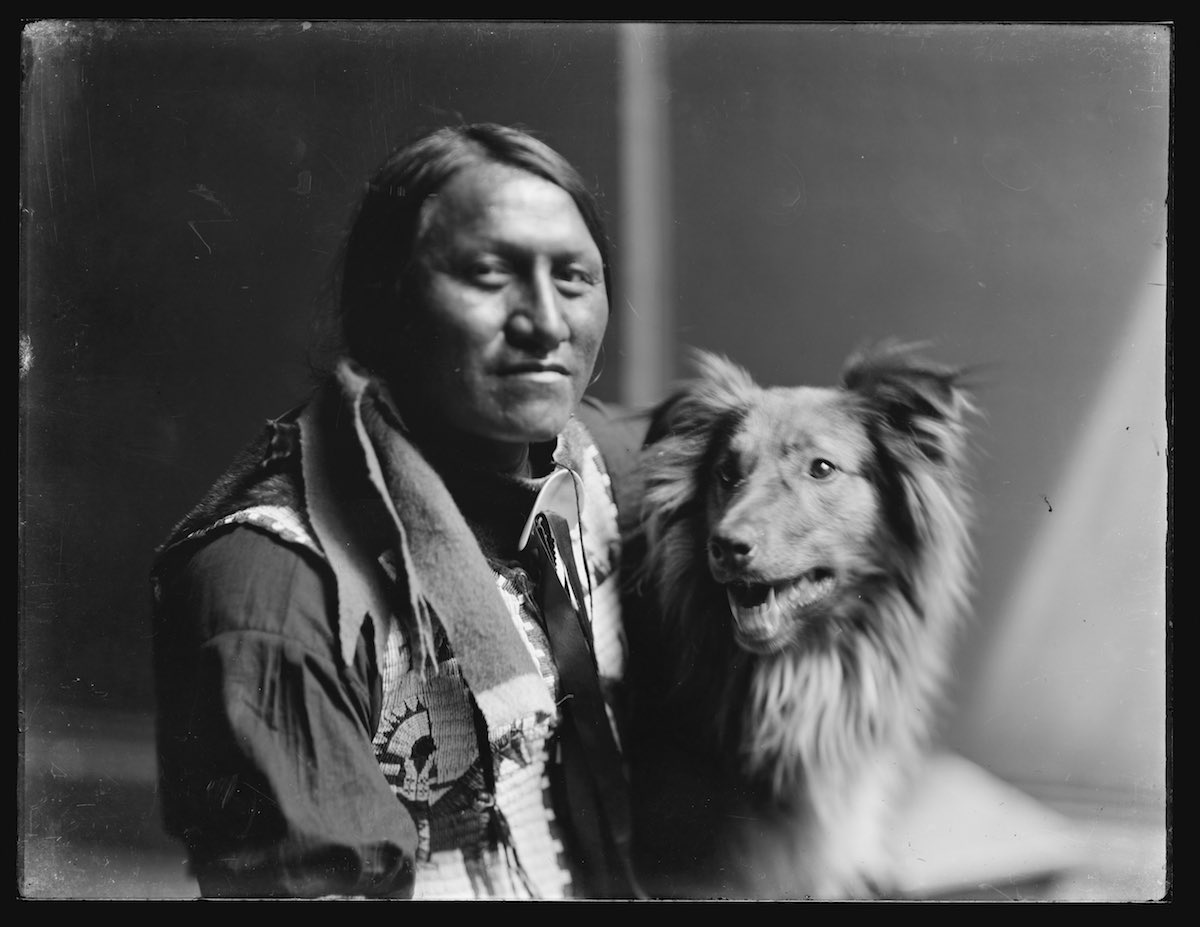 Photographer Gertrude Käsebier received permission from Buffalo Bill Cody to photograph the native tribes people in his Wild West Show. This collection, from the Library of Congress, is wonderful.
Continue reading
===================================
No place like home
via 3 Quarks Daily: Lyndsey Stonebridge in
Eurozine
The end of the Second World War was as bad as the beginning. In Europe displaced persons filled old camps and necessitated new ones, as new political frontiers were drawn across the continent. More people waited on more boats and at more borders. As India and Pakistan took shape out of the ashes of British colonial rule in 1947, millions more found themselves forced on to the road. In 1948 the creation of Israel pushed out a new generation of refugees, the Palestinians, soon to become the first permanently stateless people of modern times. More followed from China, Tibet, Burma, Bangladesh and North Korea; the misfortunes multiplied, from land to land, continent to continent.
Continue reading
===================================
10 surprising facts about Ancient Egyptian art and architecture
via OUP Blog by Christina Riggs
Ancient Egyptian art dates all the way back to 3000BC and provides us with an understanding of ancient Egyptian socioeconomic structures and belief systems. The Ancient Egyptians also developed an array of diverse architectural structures and monuments, from temples to the pyramids that are still a major tourist attraction today. But how much do you know about Ancient Egyptian art and architecture? Christina Riggs, author of
Ancient Egyptian Art and Architecture: A Very Short Introduction
, tells us ten things we need to know about Ancient Egyptian art and architecture:
Continue reading