Totes annoying: words that should be banned
via the
Guardian
by Justin Myers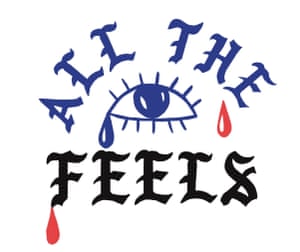 We all have a watershed word – the word that tells us it's all over, that the internet has won, and our youth is gone for ever. For me, it was Yolo, or You Only Live Once. It was born, I used it, and rooms fell eerily silent as soon as it left my mouth. Yolo belonged to the
others
, the younger people; it carbon-dated me and I was envious.
Continue reading
=============================
John Green asks: How young is history?
via Boing Boing by Caroline Siede
In this new Vlogbrothers video, John Green tries to put human history into perspective.
Watch it here
=============================
Palaeontologists reveal 350m-year-old tropical Scotland bursting with life
via the Guardian by Elsa Panciroli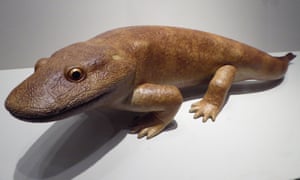 An early tetrapod from Scotland.
Photograph: Elsa Panciroli/National Museums Scotland/Elsa Panciroli
I held in my hands one of the first animals to drag itself out of the water and onto land. Christened "Tiny", she (I like to think it was female, but we can't actually tell) is entombed in a chunk of boring, black rock. I ran my hands over the surface, feeling the bumps betraying a stone pregnant with fossils. Yet, from the outside there's no sign of the treasure within: no one has ever actually seen it.
Continue reading
=============================
How C.S. Lewis and T.S. Eliot redrafted the Anglican Book of Common Prayer
via 3 Quarks Daily: Miranda France at
Granta
Alan Jacobs identifies World War I as the time when moves to reform the prayer book gathered pace. Chaplains returning from the Front pushed for a liturgy that soldiers could understand. Cranmer had written at a time when people's lives were so different. Seventeenth century men and women feared the dark and the malign effect of the moon or night air. They worried with good cause that none of their children would survive infancy. Not only had ordinary life changed beyond recognition, but the language was now too arcane to be understood by many in the congregation, or no longer meant what it once had. It made no sense to use 'thee' and 'thou' in church when you didn't use it anywhere else. It felt so much worse to call yourself a miserable offender in the twentieth century than in the sixteenth, when 'miserable' had simply meant 'deserving of mercy'.
Continue reading
The above quote comes about half way through a long, and to me very interesting, article.
=============================
This Artist Cleverly Brings His Cartoons To Life With Only Paper And Pen
via Lifehack by Nina Bonander
Check out these cool works by Danish cartoon artist HuskMitNavn, who creates amazing 3D cartoons using nothing but ingenuity and one sheet of paper. He folds the paper with his 2D illustrations to ultimately create a 3D effect! It is absolutely amazing. Samples of his work can be seen below. Each of them bursting with character, it's unbelievable how a few simple tricks can create so much animation.
Continue reading
=============================
Why do our cell's power plants have their own DNA?
via 3 Quarks Daily: Laurel Hamers in
Science
Mitochondria (the brown, oval-shaped structures) contain their own DNA.
It's one of the big mysteries of cell biology. Why do mitochondria – the oval-shaped structures that power our cells – have their own DNA, and why have they kept it when the cell itself has plenty of its own genetic material? A new study may have found an answer. Scientists think that mitochondria were once independent single-celled organisms until, more than a billion years ago, they were swallowed by larger cells. Instead of being digested, they settled down and developed a mutually beneficial relationship developed with their hosts that eventually enabled the rise of more complex life, like today's plants and animals.
Continue reading
=============================
Painting Damnation: Celebrating 500 Years of Bosch
via Arts & Letters Daily: Nina Siegal in
The New York Times
Museo Nacional del Prado, Madrid
In case you missed it, we're coming to the end of "Bosch Year 2016", the quincentenary celebration of the death of the late-medieval Dutch master known for his surrealistic images of the hereafter, and particularly for the fantastical hybrid demons that populate his hell.
Continue reading
=============================
Trump's forbidden city
via 3 Quarks Daily: David Rennie in
The Economist
It says a lot about the Qing emperors' worldview that, for much of the time their dynasty lasted, relations with foreign powers were handled by an Office of Barbarian Control. Jump to late 2016 and the dawn of the Trump era in America, and life for the nearly 180 ambassadors resident in Washington, DC is almost as humiliating. Before the election, modern-day envoys spent months talking to foreign-policy experts signed up with Hillary Clinton's campaign – a veritable administration-in-waiting, housed in think-tanks, universities and consulting firms, comprising several hundred advisers organised into working groups and sub-groups and busy holding conference calls and sending one another memos. Even the farthest-flung country had friends within this system: a former National Security Council director with a passion for the Caucasus, say, who might soon serve as a principal deputy assistant secretary of state (an actual job title).
In contrast, embassies anxious to know what Republican foreign-policy grandees were telling Trump faced an unusual hurdle. During 2016 dozens of conservative thinkers and bigwigs from both Bush presidencies signed "Never Trump" letters declaring the businessman a terrifying menace to global security – though since his win, Washington being what it is, some are now pondering whether they might work for him anyway.
Continue reading
=============================
The secret of Namibia's 'fairy circles' may be explained at last
Using computer models, ecologists think they have finally hit upon the reason for the strange polka dot patches scattered across the Namib desert
via the Guardian by Ian Semple, Science Editor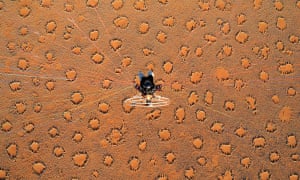 The "fairy circles" of the Namib desert as seen from above.
Photograph: Theo Allofs/Barcroft Media
The marks on the ground in the Namib desert resemble a vast sheet of polka dots, or to the less romantic observer, perhaps a bad case of chickenpox.
In local myths, the bare, red circles fringed with grass are footprints of the gods, or patches of land once poisoned by the breath of a subterranean dragon. But even among scientists, who strive for more convincing theories, the curious, repetitive patterns have proved hard to explain.
Continue reading
=============================
Friends find abandoned 1955 VW van on a mountain and repair it onsite
via Boing Boing by Andrea James
Continue reading