Take a butcher's at this: a new history of slang
via The New Statesman by Lynne Truss
Vulgar Tongues: an Alternative History of English Slang
gathers material from a mind-boggling range of sources – but still leaves you wanting more.
In 1950, the postwar crime reporter Percy Hoskins (of the Daily Express) published a book whose title was appropriated by a British television series in the late 1960s and 1970s. This book – No Hiding Place! – promised to be "the full authentic story of Scotland Yard in action", and it remains a compulsive read today, not least for its helpful guide to underworld slang, presented in an appendix "for the benefit of the young detective".
Continue reading
===================================
Artisans revive the polissoir, a nearly-forgotten woodworking tool
via Boing Boing by Andrea James
André Roubo's series on carpentry called
L'Art du Menuisier
mentions a polissior, a small device made of broom straw for polishing wood. In the two centuries since Roubo's book, the device had faded from memory until a couple of years ago, when Don Williams recreated one from an illustration in Roubo's book. It turned out to work amazingly well.
Continue reading
===================================
Researchers "Translate" Bat Talk. Turns Out, They Argue – A Lot
via 3 Quarks Daily: Jason Daley in
Smithsonian
Plenty of animals communicate with one another, at least in a general way – wolves howl to each other, birds sing and dance to attract mates and big cats mark their territory with urine. But researchers at Tel Aviv University recently discovered that when at least one species communicates, it gets very specific. Egyptian fruit bats, it turns out, aren't just making high pitched squeals when they gather together in their roosts. They're communicating specific problems, reports Bob Yirka at Phys.org.
Continue reading
===================================
Roman history and the dangers of nostalgia
via A Don's Life by Mary Beard
I'm not sure how we should feel about ancient Rome becoming an increasingly popular comparison for modern politics: both a mixture of delight and fear, I guess… and with a recognition that these comparisons tend to come in waves, and will retreat again soon.
Continue reading
===================================
Ralph Steadman: The gonzo marksman
via The New Statesman by Xan Rice
In the summer of 1970, a 34-year-old Welsh artist with a shock of prematurely white hair and a thick, moustache-less goatee was asked by the Times to draw political cartoons during the general election campaign. Idealistic and mistrustful of authority, Ralph Steadman saw little that was likeable or even distinguishable in the Conservative Party's Edward Heath and Labour's Harold Wilson. But he had four children to support from a recently ended marriage and needed a steady income, so he accepted the assignment – and got on with causing offence.
Continue reading
===================================
A Tree in Winter
via 3 Quarks Daily by Brooks Riley
If I could hug a tree a day without seeming a complete idiot, I would. Trees matter to me now – how fast they grow, how full their crowns, how tall they are, how odd their leaves, how extraordinary their shapes, how thick their trunks, how nearby they are. This late interest has crept up on me, and taken hold in ways I am trying to understand.
Continue reading
===================================
Watch how incredibly delicate Japanese gold leaf is made and applied
via Boing Boing by Andrea James
If you end up at some fancy event this month where gold leaf decorates the food, that gold leaf will be far thicker than traditional Japanese hand-pounded gold leaf, which can be as thin as 0.0001 millimeters. See how it's made in the fascinating video.
Continue reading
===================================
The Big Thing People Get Wrong About Their IQ Scores
via Big Think by Robby Berman
How many brilliant people do you know who are nonetheless capable of making ridiculous mistakes? Maybe that's even you. The thing is, intelligence is complicated. There are different kinds: Someone who's a genius at music may be be a total washout in social circumstances, a brilliant philosopher may not be able to remember actors' names, and so on.
Continue reading
===================================
What can a Medieval climate crisis teach us about modern-day warming?
via the Guardian by Andrew Simms
In Europe's 'bleak midwinter' of 1430-1440, medieval society made dramatic changes in response to food shortages and famine caused by exceptional cold. What lessons can we learn from history?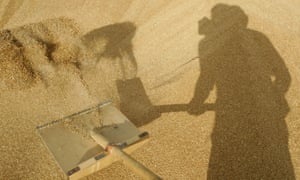 A Russian man shovels grain at a farm in Vasyurinskoe during the country's worst drought in decades in August 2010. Photograph: Mikhail Mordasov/AFP/Getty Images
Continue reading

===================================
Hands across the pages: the stories of the world's most beautiful books via The New Statesman by Peter Parker
Meetings With Remarkable Manuscripts
by Christopher de Hamel allows us to see inside the books most of us will never get the chance to open.
Some books are so old and valuable that most readers will never get to see them ­except when opened at a single spread in a glass display case. As Christopher de Hamel (the custodian of the treasure-house Parker Library at Corpus Christi, Cambridge) observes, even now that many rare books have been digitised, there is no satisfactory substitute for sitting at a desk and turning these ancient pages yourself, "touching hands" with their creators and the long-vanished world in which they lived.
Continue reading