an article in the
Guardian
published on 12 July 2017
Eradicated for a century in some parts of the world, Alexandra Ossola looks at the history of a disease that has infected 246,000 people in Yemen in eight months.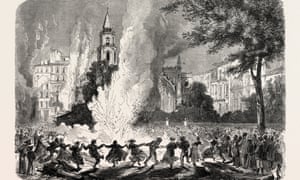 Citizens of Marseille dance around a fire lit to destroy the pestilence during the city's cholera epidemic in 1865. Photograph: Universal History Archive/UIG via Getty Images
Mohammad Shubo is motionless when he is wheeled into the clinic. He had started experiencing diarrhoea and vomiting that morning; by evening, he had no pulse.
In an effort to rehydrate him quickly, the nurses give Shubo an IV of saline solution. His reanimation seems almost uncanny – within half an hour he is able to sit up and speak. He spends the next two days at the hospital to rehydrate and convalesce before returning to his cramped quarters. If Shubo had arrived at the clinic just 10 minutes later he would have died, a nurse says.
Continue reading
---