Shakespeare and Holinshed's Chronicles
via OUP Blog by Paulina Kewes
Where did Shakespeare obtain material for his English history plays? The obvious answer would be to say that he drew on the second edition of Raphael Holinshed's
Chronicles of England, Scotland and Ireland
(1587), a massive work numbering no fewer than 3,500,000 words that gave rise to more Renaissance plays than any other book, ancient or modern.
Continue reading
===================================
Wer and Wyf, Man and Woman
via Daily Writing Tips by Maeve Maddox
In Old English, the word man had the meaning of "human being" or "person," male or female.
Note: Old English is the earliest form of English, brought to Great Britain in the fifth century by Germanic settlers. The first literary works in Old English date from the seventh century.
In OE, the word man occurs in proverbs in the sense of "one," "a person" or "people".
Continue reading
===================================
It's time to re-think St Paul and St Augustine
via 3 Quarks Daily: Rowan Williams at
The New Statesman
Paul of Tarsus and Augustine of Hippo are usually regarded as pantomime villains by right-thinking moderns. Any number of historical outrages and injustices have been laid at their door, jointly and severally; patriarchal oppression, collusion in slavery, the Inquisition, the collective Christian neurosis about sexuality – almost everything except the common cold. What is most interesting about these two books is that two seasoned and scholarly authors without any religious axes to grind are arguing that this profound suspicion warrants significant qualification. Neither Karen Armstrong nor Robin Lane Fox would want to absolve the two great theologians from every reproach: Paul and Augustine are men of their age, using the familiar rhetorical forms of their cultures, marked by the patterns of power they live in, uncritical of much that we would indignantly repudiate. But what both these books do is to show how, although neither Paul nor Augustine existed in a timeless world of liberal virtue, they still offer an intellectually and imaginatively serious perspective on our humanity as well as theirs and that of their contemporaries.
Continue reading
===================================
Dickens' fascination with London
via OUP Blog by Daniel Tyler
At the height of his career – during the time he was writing
Great Expectations
and
Our Mutual Friend
– Dickens wrote a series of sketches, mostly set in London, which he collected as
The Uncommercial Traveller
. The persona of the 'Uncommercial' allowed Dickens to unify his series of occasional articles by linking them through a shared narrator. Travelling the streets of London he describes and comments upon the city, its inhabitants, commerce and entertainment. Scenes of poverty and social injustice are interwoven with childhood experiences and adult memories. In the
interactive map below
, you can explore the areas of London visited by Dickens throughout his travels.
===================================
3,500-Year-Old Grave in Greece is Filled with Bling and Mystery
via Big Think by Robert Montenegro
A team of giddy archaeologists has uncovered a lavish and mysterious tomb in the ancient city of Pylos on the western coast of Greece's Peloponnesian peninsula. The tomb dates to 1500 BC and thus presents a glimpse into the rise of European civilization. The researchers hope it can help shed light on the region's clouded past beyond the scope of Homeric history.
Continue reading
===================================
The Caffeinated Lives of Bees
via 3 Quarks Daily: James Gorman in
The New York Times
Caffeine improves learning and memory in bees, as it does in people. Scientists know that. But, one might wonder, what do these laboratory findings mean in terms of the actual lives of bees? It's not as if a flower meadow is sprinkled with coffee shops. Except that it is, in a way. Up to 55 percent of flowering plants are estimated to have caffeinated nectar. So any meadow or forest is going to have lots of places to stop by for a jolt. Margaret J. Couvillon of the University of Sussex, who studies the behavior of honeybees, wanted to see how caffeine affected bees' behavior.What she found was that bees were drawn to caffeine like office workers to a coffee cart and that the favorite drug of so many human beings changed how bees evaluated nectar quality.
Continue reading
===================================
Marie-Antoinette and the French Revolution
via OUP Blog by Thomas E Kaiser
Although most historians of the French Revolution assign the French queen Marie-Antoinette a minor role in bringing about that great event, a good case can be made for her importance if we look more deeply into her politics than most scholars have. Perhaps the best way to frame the question to be resolved here is: why did Marie-Antoinette come to embody so much of what seemed so wrong about the Old Regime that her removal from power, and ultimately her execution, seemed necessary to achieve the goals of 1789?
Continue reading
===================================
Elegance, illustrated: heliocentrism vs geocentrism
via Boing Boing by Cory Doctorow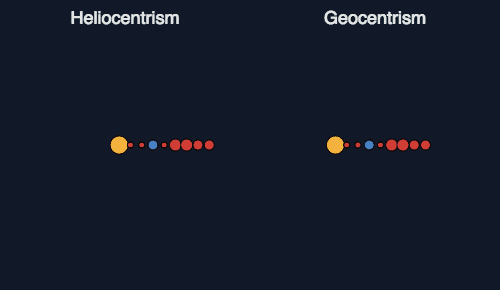 In a gorgeous animation, Malin Christersson shows how much simpler it is to plot out celestial mechanics when you assume that all the bodies in our solar system are in orbit around the sun, rather than the other way around.
Continue reading
===================================
Great Power: a 'bridge too far' for India?
via OUP Blog by Bharat Karnad
Think of it. India was there when the Pharaohs ruled Egypt. It interacted with the Ancient Mesopotamian empires on the Tigris and the Euphrates. India was the mystery Alexander of Macedon set out to conquer. Indian spices and precious stones, finely woven cottons and silk, and peacocks, were the luxuries and the exotica craved by Imperial Rome in the age of the Caesers. Much of Southeast and offshore Asia had Hindu kingdoms, and absorbed Indic values and culture, even as Tibet, Central Asia, China, and Japan came under the thrall of Buddhism emanating from the subcontinent. The Ramayana lore so forms the cultural core of countries in this "Farther India" that the 800-year old Thai monarchy still has its historic capital of Ayuthhaya, an ancient form of Hinduism is still practised in Bali, Indonesia, and the adventures of the great Monkey King with mythical powers journeying to the "Western Kingdom" – India – remains the stuff of traditional stories dear to the people of China. So, India is and has always been a civilizational presence and cultural magnet. Alas, that is a far cry from being a great power in the modern age.
Continue reading
===================================
Why do so many corpses found in Europe's peat bogs show signs of violent death?
via 3 Quarks Daily:Kristen C. French in Nautilus
One Saturday in the spring of 1950, brothers Viggo and Emil Højgaard from the small village of Tollund, in Denmark, were cutting peat in a local bog when they uncovered a dead man. He looked as though he had only just passed away. His eyelashes, chin stubble, and the wrinkles in his skin were visible; his leather cap was intact. Suspecting murder, the brothers called the police in nearby Silkeborg, but the body wasn't what it seemed.
Continue reading